TXT's Huening Kai, aespa's Giselle, & More, Half-Korean K-Pop Idols Who Have Elite Visuals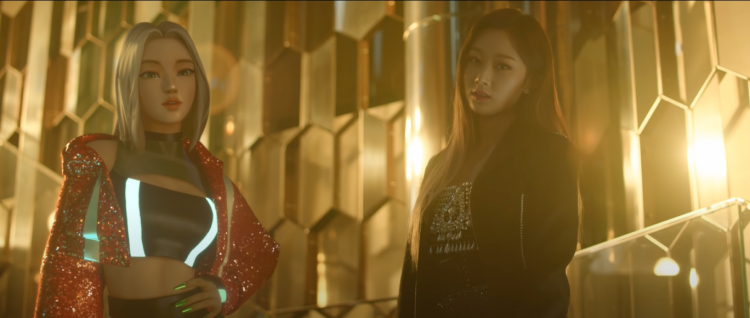 The K-pop industry initially became a hit in South Korea, the country of its origin. After booming and expanding globally, the K-pop industry is now not limited to domestic releases. The case is the same for K-pop idols as well.
There are now a plethora of immensely talented half-Korean K-pop idols who are also visually stunning. A lot of these half-Korean K-pop idols are gaining a huge number of fans from having really unique and beautiful looks.
Among a handful of immensely visually stunning half-Korean K-pop idols, here are 5 that are really well known amongst netizens and fans for their beauty:
I.O.I's former center and maknae, Jeon Somi
Birth name: Ennik Somi Douma
Jeon Somi is a Dutch-Canadian-Korean K-pop idol who is extremely well rounded in terms of talent and is known for her really impressive visuals. Currently a soloist, Jeon Somi's adoring fans love her for her fun personality aside from her unique beauty and talent.
TXT's (TOMORROW X TOGETHER) visual and maknae, Huening Kai
Birth name: Kai Kamal Huening
HYBE's (formerly known as Big Hit Entertainment) TXT which is also known as TOMORROW X TOGETHER has a maknae that is from an American-German-Korean descent. TXT's Huening Kai dubbed as HYBE's (formerly Big Hit) first ever international artist.
MOMOLAND's center and maknae, Nancy
Birth name: Nancy Jewel Mcdonie
MOMOLAND's very own Nancy is a K-pop idol who has an American-Irish father and a South Korean mother. MOMOLAND's Nancy is known for her really pleasing visuals, aside from her talent and personality.
aespa's main rapper, Giselle
Birth name: Uchinaga Aeri
SM Entertainment's rookie K-pop girl group, aespa, is filled with really beautiful and talented members. But their Japanese-Korean member, Giselle, is quite known for her amazing rap skills and indomitable looks.
SEVENTEEN's main rapper and visual Vernon
Birth name: Hansol Vernon Chwe
SEVENTEEN's very own Vernon comes from a Korean-American descent and is known for his handsome looks and fire bars. Coming from New York, the SEVENTEEN member quickly moved to South Korea at a young age.
© 2023 Korea Portal, All rights reserved. Do not reproduce without permission.
Tags:
kwave
,
kwave news
,
kwave updates
,
Kpop
,
kpop news
,
Kpop updates
,
kpop visuals
,
best looking kpop idols
,
best visuals kpop idols
,
kpop idols best visuals
,
I.O.I.
,
I.O.I. Jeon So Mi
,
I.O.I. Somi
,
Jeon Somi
,
Somi
,
Somi News
,
Somi Updates
,
TXT
,
TXT Huening Kai
,
TXT Kae
,
Huening Kai
,
Huening Kai news
,
Huening Kai updates
,
Momoland
,
momoland nancy
,
MOMOLAND Nancy news
,
MOMOLAND Nancy updates
,
Nancy
,
Nancy News
,
Nancy Updates
,
aespa
,
aespa Giselle
,
aespa Giselle news
,
aespa Giselle updates
,
Giselle
,
Giselle news
,
Giselle updates
,
Seventeen
,
SEVENTEEN Vernon
,
SEVENTEEN Vernon news
,
SEVENTEEN Vernon updates
,
Vernon
,
Vernon news
,
Vernon updates