Big Hit Entertainment's TXT Share How They Really Feel After Debuting With One Another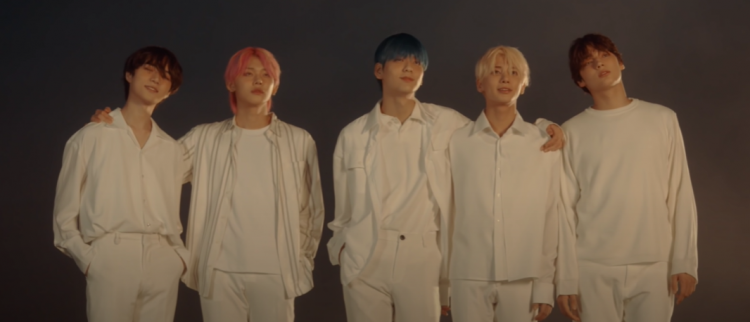 Big Hit Entertainment's TXT made its debut on March 4th, 2019. Since then, they have won a plethora of awards.
With that being said, Tomorrow X Together has a unique type of unity. Within a span of two years, they were able to create a chemistry that is undeniably strong. With that being said, a K-pop group's cohesion usually takes a while to form. But for TXT, it seemed pretty natural.
During a recent interview in TXT's "DREAM WEEK," each member answered this question individually:
"Before debuting, when the members gathered under the name "TXT" for the first time, and heard that the five of you are going to be a team, how did you feel?"
Here are their answers:
Huening Kai (Vocalist, Dancer, Rapper, Visual, Maknae)
"It didn't sink in. During my days as a trainee, with several evaluations, I felt, 'It will stay like this or it wouldn't' but when I heard that the five of us would join as a team, it felt like a dream. I didn't sink in because those words were the words I had been hoping for and they only came true in dreams. I really wanted to hear, 'You are all a team and you guys are going to debut.' After a long time, it finally sunk in and I was happy, excited, and I was anticipating it."
Taehyun (Vocalist, Dancer, Rapper)
"I actually didn't feel too different. Like, we didn't become a team overnight. And with time, I kind of started to grasp, 'It's going to be us five, for sure.' We had a feeling, so to speak. So working up to debut, we didn't worry too much. Then, at a certain point, I became absolutely sure. Like, 'We got this, we're going to be great.'."
Beomgyu (Vocalist, Dancer, Rapper, Center, Visual)
"The first day I went to the company, I met with the members for the first time, I heard we were going to be in one team. Being a 'team' with people I just met for the first time was scary and unfamiliar but when I thought in a different way, being able to feel a sense of belonging in an entity like a 'team' was great. It was an emotion I felt for the first time. If I were to reflect back and speak honestly, I think we were a lot more worried as well. The thoughts I had when I came to Seoul for the first time, hoping to slowly prepare and debut perfectly. But the debut preparation went by quicker than I thought it would be."
Yeonjun (Rapper, Dancer, Vocalist)
"I thought, 'That's strange.' I really could not predict which members would be put into one team. At the start, I had some members I couldn't get along with in regards to personalities and other aspects, and I had many concerns about how to all get along, and it was a struggle. Also, Soobin and Beomgyu were young, but Taehyun and Hueningkai, they were very young and really babies. Of course, they are still babies. So, I was really worried about how to lead the dongsaengs."
Soobin (Leader, Vocalist, Rapper, Dancer)
"At first, I was at a loss. I felt really doubtful on the inside. I thought, 'I don't think I'm ready. I don't think I can start preparing to debut.' At the time, I was really timid and I wasn't close to any members except for Hueningkai. So, I didn't know how to get closer to the other members, and my thoughts compounded with other thoughts and I became more and more at a loss."
Arguably, TXT seems to have a better start to their careers compared to Big Hit Entertainment's other boy group, BTS. But time will tell if they are able to match the global superstars that are BTS in the future.
In the meantime, TXT's trajectory seems promising.
© 2022 Korea Portal, All rights reserved. Do not reproduce without permission.