MAMAMOO's Moonbyul, IU, (G)I-DLE's Soyeon, & More, The Most Independent Female K-Pop Idols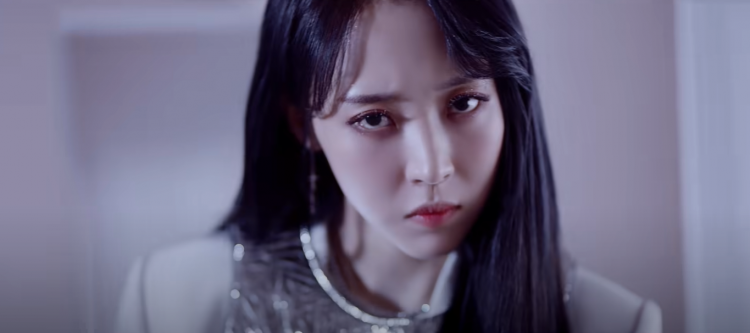 Being independent in the K-pop industry does not necessarily mean being an indie artist. In this article, being independent means being a K-pop idol that writes and produces their own song. For a K-pop idol to be credited for a song, they need to contact KOMCA.
The Korean Music Copyright Association, or KOMCA for short, is a non-profit South Korean collective that gives records of credited tracks for all South Korean musical entertainers, not just K-pop artists.
Moreover, KOMCA is contacted when the likes of a K-Pop artist want to be noted for being a part of a track they have made.
Truthfully told, there are a plethora of K-Pop idols that have been credited with their own tracks, but the ones selected have the most tracks credited by their names via KOMCA. With that, here are the top female K-pop idols that are the most independent in the K-pop industry:
#1 Miryo of Mystic Entertainment's Brown Eyed Girls
Miryo is the main rapper of Brown Eyed Girls' which debuted 15 years ago in 2006 and is still going strong. Amazingly, in the years she has been active in the industry, Miryo has been credited with 97 tracks under her name.
#2 LE of Banana Culture's EXID
LE is the main rapper of EXID. Being active for more than 9 years now, LE can proudly say she has been credited with 75 songs under her belt.
#3 Yerin Baek, a former member of JYP Entertainment's 15&
Becoming a soloist in 2015, 6 years was more than enough for Yerin Baek to reach the top of this list. Seventy-two songs are obviously nothing to scoff at, as this is the number of tracks credited under Yerin Baek's name.
#4 BoA, & Moonbyul of RBW's MAMAMOO
Being active for 20 years now in the K-Pop industry, BoA is one of the OGs and most respected soloists in the business. Following closely at 71 songs, BoA has real potential to climb higher on this list.
Moving on to the member of MAMAMOO that spits bars harder than anyone, Moonbyul's solo career is impressively noted, with 71 tracks credited in her name as well. K-pop idols only dream to collaborate with this queen.
#5 IU
One of the most influential and popular K-pop artists to date, IU has been tearing it up since 2008. Producing, acting, hosting, dancing, and of course, writing and singing, IU has a mighty 64 songs credited in her plethora of achievements.
#6 EXY of Starship Entertainment's Cosmic Girls (aka WJSN)
Cosmic Girls leader and main rapper EXY are among the youngest on this list of female K-pop queens. Since being active for four years, the WJSN member has a powerful 60 tracks under her name.
#7 Lee Hyori, a former member of DSP Media
One of the originals in the K-Pop industry, being a first-generation idol with Fin.K.L, Lee Hyori is currently a soloist, and she is among the best. With 52 songs credited, Lee Hyori demands and deserves respect.
#8 SAAY, a former member of Stardom Entertainment's EvoL
EvoL's leader and main dancer, SAAY has been a solo artist since her group's 2015 disbandment. This K-pop royalty has 50 songs to boast, which are credited to her.
#9 Soyeon of Cube Entertainment's (G)I-DLE
The youngest but certainly not the least on this list, (G)I-DLE's leader and main rapper, Soyeon, is a one in a million generational talent. Already credited with 49 tracks under her name at the age of 22, as of writing this article, Soyeon can and possibly will be higher on this list in the future.
© 2022 Korea Portal, All rights reserved. Do not reproduce without permission.
Tags:
KOMCA
,
KOMCA news
,
KOMCA updates
,
Korean Music Copyright Association
,
Korean Music Copyright Association news
,
Korean Music Copyright Association updates
,
Female Kpop idols
,
Female K-pop artists
,
Kpop girl idols
,
Kpop girl artists
,
Female Kpop artists
,
kwave
,
kwave news
,
kwave updates
,
Mystic Entertainment
,
Mystic Entertainment Brown Eyed Girls
,
Brown-Eyed Girls
,
Brown Eyed Girls Miryo
,
Miryo
,
Miryo news
,
Miryo updates
,
BEG's Miryo
,
banana culture entertainment
,
Banana Culture
,
Banana Culture EXID
,
EXID
,
EXID LE
,
LE
,
LE news
,
LE updates
,
JYP Entertainment
,
JYP Entertainment 15&
,
15& Yerin Baek
,
Yerin
,
Yerin news
,
Yerin updates
,
Baek Yerin
,
BoA
,
BoA news
,
BoA Updates
,
RBW
,
RBW MAMAMOO
,
Mamamoo
,
MAMAMOO Moonbyul
,
Moonbyul
,
Moonbyul news
,
Moonbyul updates
,
IU
,
IU news
,
IU Updates
,
Starship Entertainment
,
Starship Entertainment Cosmic Girls
,
Starship Entertainment WJSN
,
Cosmic Girls Hyori
,
WJSN Hyori
,
Lee Hyori
,
Lee Hyori News
,
Lee Hyori Updates
,
Hyori
,
Stardom Entertainment
,
Stardom Entertainment EvoL
,
EvoL SAAY
,
SAAY
,
SAAY news
,
SAAY updates
,
Cube Entertainment
,
Cube Entertainment (G)I-DLE
,
(G)I-DLE
,
(G)I-DLE Soyeon
,
Soyeon
,
Soyeon news
,
Soyeon updates