Stray Kids' Felix, MAMAMOO's Moonbyul, GOT7's Jackson, & More, K-pop Idols With Deep & Sexy Voices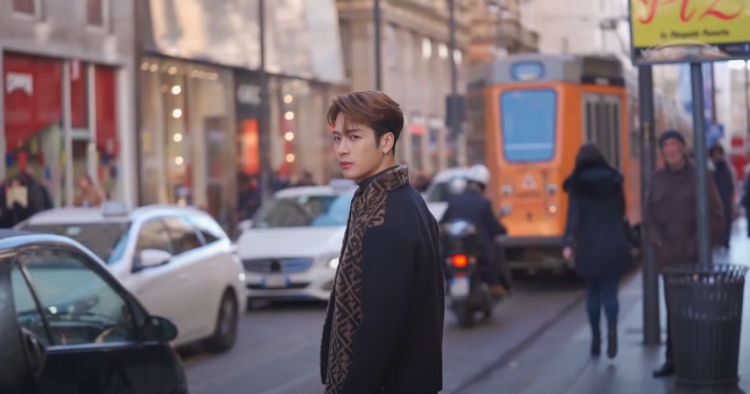 In the K-pop industry, having a stable vocal line is immensely important, especially when the K-pop group requires a vast array of vocal ranges. Thus, vocals are one of the first things K-pop scouts look for.
Among the hundreds and thousands of popular K-pop idols, there are a few who have a really unique voice. Some K-pop idols are known to hit really high notes, some can whistle their voice, and others are known for their extremely deep vocal tones.
Usually, deep voices are what attracts most K-pop fans not only because of the tone but also because of its certain attractiveness. For that sole reason, here is a collated list of K-pop idols, both male and female, who have amazingly deep voices:
Felix of Stray Kids
JYP Entertainment's Stray Kids, one of the participants on Mnet's "Kingdom", has a member that is virtually well known for his immensely deep voice and that member is Felix.
Moonbyul of MAMAMOO
MAMAMOO's Moonbyul, being a soloist and being in a group, is really popular in the industry with her rapping skills alongside her deeply rich voice.
V of BTS
V's voice simply completes BTS' vocal range due to it not only being deep but also somewhat calming. Although all the members of BTS have unique voices, V's simply stands out in terms of low pitch.
Yuqi of (G)I-DLE's
(G)I-DLE's Yuqi has a deep-toned voice that will surely draw your attention when you listen to her. Both charming and melodic, Yuqi's voice is simply amazing.
I.M of MONSTA X
One way to enjoy I.M's deep voice is listening to his ASMR rendition of "The Little Prince" on "Weekly Idol." Relaxing, resonant, and smooth, MONSTA X's I.M is truly a gift.
Jiwoo of KARD
With her somewhat raspy voice, KARD's Jiwoo is able to make and meld amazing low-pitched notes, which are simply bewildering. To further appreciate her voice more, check out Jiwoo's covers on English songs.
Chanyeol of EXO
Both a talented rapper and vocalist, EXO's Chanyeol can entice almost everyone with his low-toned voice and unbelievable charisma.
Jackson Wang of GOT7
Ahgases from around the world are familiar with Jackson's deep and smooth voice. Being the main rapper of GOT7, Jackson's deep voice is a treat to all listeners.
T.O.P of BIGBANG's
The epitome of deep voices, BIGBANG's T.O.P commands the stage whenever he raps due to his deep vocal range.
If your favorite K-pop idol is not on the list, please note that this list is completely subjective and similar to visuals, the voices of K-pop idols are truly all unique and impressive in their own ways.
© 2023 Korea Portal, All rights reserved. Do not reproduce without permission.
Tags:
kwave
,
kwave news
,
kwave updates
,
Kpop
,
kpop news
,
Kpop updates
,
deep voices
,
kpop deep voices
,
deep voices in kpop
,
sexy voices in kpop
,
stray kids
,
stray kids felix
,
Felix
,
Mamamoo
,
MAMAMOO Moonbyul
,
Moonbyul
,
BTS
,
bts v
,
V
,
(G)I-DLE
,
(G)i-DLE YUQI
,
Yuqi
,
MONSTA X
,
MONSTA X I.M
,
I.M
,
kard
,
KARD Jiwoo
,
Jiwoo
,
EXO
,
EXO Chanyeol
,
Chanyeol
,
GOT7
,
got7 jackson
,
Jackson
,
Jackson Wang
,
BIGBANG
,
BIGBANG T.O.P.
,
T.O.P.