IU, TWICE's Jihyo, LOONA's Jinsoul, & More, Female K-Pop Idols Who Dominate The Blonde Look!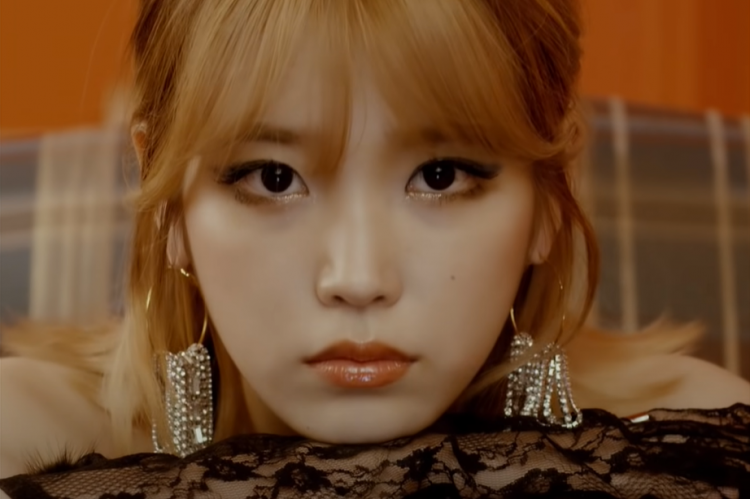 Among the popular visual amplifiers in the K-pop industry is hair dyes! Both male and female K-pop artists dye their hair as the practice is very appealing to fans and netizens.
Among the popular colors that K-pop artists choose to dye their hair with is the color blonde. Blonde is a pretty difficult color to pull off but there are a handful of female K-pop idols who radiate in yellow!
Here are female K-pop idols who slay the blonde look:
#8. IU
For a video teaser for her album "Flower Bookmark 2," EDAM Entertainment's IU dyed her hair blonde and her Uaenas simply loved it! The yellow perfectly matched her already doll-like visuals. IU also went blonde to surprise her fans in a concert.
#7. MAMAMOO's Solar
MAMAMOO's very own leader has rocked the brunette look in the past but MooMoos agree that blonde is totally her color. It is hard to imagine Solar with another hair color as blonde truly looks too good on her.
#6. Red Velvet's Seulgi
The main dancer of Red Velvet, like most K-pop idols on this list, simply looks enchanting with blonde hair. As per ReVeluvs, seeing Seulgi dance with her blonde hair is comparable to the sun's rays breaching tree leaves; radiant.
#5. LOONA's Jinsoul
Jinsoul of LOONA is one of the K-pop idols who exudes two types of moods depending on her hair color. With her jet black hair, Jinsoul is graceful and fluid and with her blonde hair, she is radiant and cute. Either way, Orbits can all agree that blonde looks absolutely gorgeous on her.
#4. TWICE's Jihyo
One of the very first dyes Jihyo tried on her hair, ONCEs were immediately taken aback as her blonde locks looked perfect on TWICE's leader!
#3. Oh My Girl's Jiho
Jiho in blonde is simply gamer over for fans as the Oh My Girl member is nothing short of beautiful on her. The Oh My Girl visual matches her position well as yellow adds more to her already beautiful face.
#2. Girls' Generation's (aka SNSD) Hyoyeon
So Ones were completely let off guard as Girls' Generation's Hyoyeon just decided to be blonde one day. But it was a welcome surprise as she completely rocked the yellow!
#1. BLACKPINK's Rosé
BLINKs have always imagined BLACKPINK's Rosé with blonde hair as it looks totally amazing on the vocalist. So much so that blonde is already an iconic look for the BLACKPINK member!
© 2023 Korea Portal, All rights reserved. Do not reproduce without permission.
Tags:
kwave
,
kwave news
,
kwave updates
,
Kpop
,
kpop news
,
Kpop updates
,
IU
,
IU news
,
IU Updates
,
Mamamoo
,
mamamoo solar
,
MAMAMOO Solar news
,
MAMAMOO Solar updates
,
solar
,
Solar news
,
Solar updates
,
Red Velvet
,
red velvet seulgi
,
Red Velvet Seulgi news
,
red velvet seulgi updates
,
Seulgi
,
Seulgi news
,
Seulgi updates
,
Loona
,
LOONA Jinsoul
,
LOONA Jinsoul news
,
LOONA Jinsoul updates
,
Jinsoul
,
Jinsoul news
,
Jinsoul updates
,
TWICE
,
twice jihyo
,
TWICE Jihyo news
,
twice jihyo updates
,
Jihyo
,
Jihyo news
,
Jihyo updates
,
Oh My Girl
,
Oh My Girl news
,
Oh My Girl updates
,
Oh My Girl Jiho
,
Oh My Girl Jiho news
,
Oh My Girl Jiho updates
,
Jiho
,
Jiho news
,
Jiho updates
,
BLACKPINK
,
blackpink rose
,
BLACKPINK Rosé news
,
BLACKPINK Rosé updates
,
Rose
,
Rose news
,
Rose updates
,
Girls' Generation
,
Girls Generation Hyoyeon
,
Girls' Generation Hyoyeon news
,
Girls' Generation Hyoyeon updates
,
Hyoyeon
,
Hyoyeon news
,
Hyoyeon updates