MAMAMOO's Solar Admits That Her Recent Diet Took A Huge Physical Toll On Her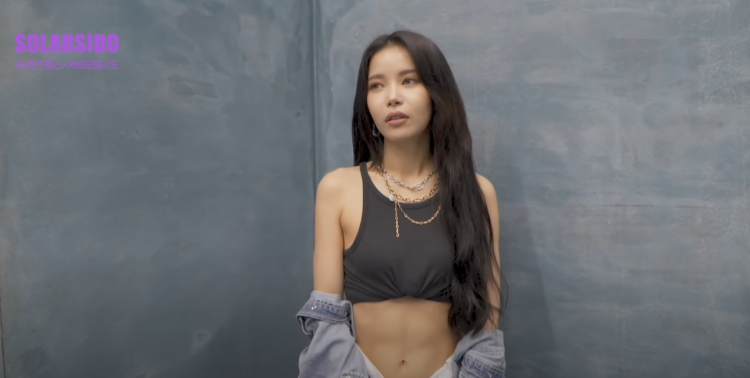 MAMAMOO's Solar recently uploaded a video on her official YouTube channel and in it she showed some behind-the-scenes footage from the day of her previous shoot as she was selected as the cover for a male magazine.
As per Solar, she went on to lose about 7kg. Due to this, Solar explained that she believes that that was not how a person should live. She then admitted that she would never diet like that again.
Now that her photoshoot is over, a lot of MooMoos (the fandom name of MAMAMOO) alongside personal fans of Solar were happy that she finally got to drink water. She even got to eat a scone.
Due to her rigorous diet, Solar explained that she spent a lot of time alone. This was because of Solar's moodiness due to the lack of food.
MAMAMOO's Solar then revealed that although she did it, she will never recommend anyone to do the same diet she went through.
"I really don't think it is right. It is something that really damages your health. Even though I only did it for a day, my body felt numb and tingly. My whole body felt like I had a cramp, and I couldn't sleep because it was so tough," MAMAMOO's Solar shared.
But although it was hard, Solar showed that she was proud of what she was able to overcome.
Solar added, "Seeing the photos in the monitor right now, it made me think I worked hard. To be honest, at first, I did not have the strength, so my body could not keep up. But while shooting, after drinking some water, I gained a bit of strength."
Reassuring her fans, Solar said that she felt it was necessary to be healthy, although her approach was a tad bit special.
"If you become healthy, your personality becomes brighter," MAMAMOO's Solar urged her fans.
© 2023 Korea Portal, All rights reserved. Do not reproduce without permission.
Tags:
kwave
,
kwave news
,
kwave updates
,
Kpop
,
kpop news
,
Kpop updates
,
MAMAMOO Solar 솔라시도 solarsido
,
솔라시도 solarsido
,
Solar 솔라시도 solarsido
,
solarsido
,
MAMAMOO Solar solarsido
,
Solar Solarsido
,
RBW
,
RBW Entertainment
,
RBW Entertainment news
,
RBW Entertainment updates
,
RBW artists
,
RBW Entertainment artists
,
RBW Entertainment MAMAMOO
,
RBW Entertainment MAMAMOO Solar
,
RBW MAMAMOO
,
RBW MAMAMOO Solar
,
Mamamoo
,
MAMAMOO News
,
MAMAMOO Updates
,
mamamoo solar
,
MAMAMOO Solar news
,
MAMAMOO Solar updates
,
MAMAMOO Solar photoshoot
,
solar
,
Solar news
,
Solar updates
,
Solar photoshoot
,
MooMoo
,
Moomoos