Netizens Hyped As Former IZ*ONE Leader, Kwon Eunbi, Reveals Solo Debut Date!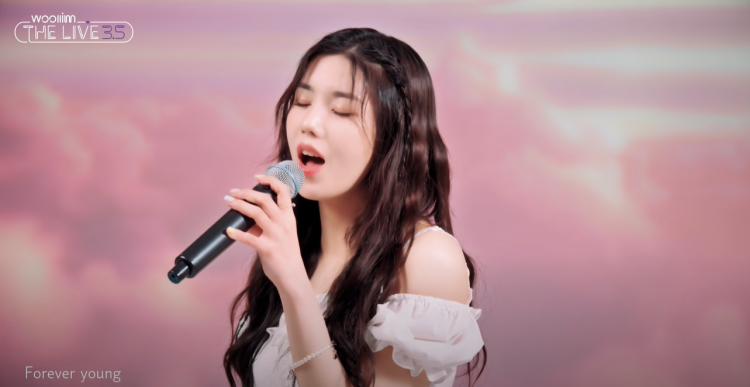 Former IZ*ONE member, Kwon Eunbi was previously featured in an interview with ESQUIRE Korea not long ago. In the interview, the former IZ*ONE leader and main dancer announced some very exciting news regarding her career moving forward.
In the interview, ESQUIRE Korea went on to collate questions from Kwon Eunbi's largest fans, and among the questions was from a super fan named cheryagataa. The fan asked the former IZ*ONE leader and main dancer if Eunbi had completed her 2021 bucket list already.
Almost automatically, Kwon Eunbi announced that her top bucket list item for 2021 is to drop a solo album, and to her fans' amazement, Kwon Eunbi is presently pulling some strings to make her dream a reality.
To the delight of fans, Kwon Eunbi proudly announced to ESQUIRE Korea, "I am currently preparing."
Most female Produce participants usually go on to debut in K-pop girl groups and making solo debuts is quite rare in the industry. Prior to her 2018 debut with IZ*ONE, Kwon Eunbi was already part of the K-pop group Ye-A from 2014 up until 2015.
But it seems as though news regarding Eunbi's solo debut is no longer cryptic as per recent reports, a release date has been dropped regarding the former IZ*ONE member's solo debut!
As of writing this article, just today on the 5th of August, Korean media outlets went on to report that Kwon Eun Bi is currently taking part in photoshoots and even began filming her music video prior to dropping her first solo album which will be at the end of August.
An insider from Woollim Entertainment released an announcement stating that Kwon Eun Bi is currently hard at work on making the final touches on her solo album that is slated to be released at the end of this month.
Stay tuned for more updates regarding Kwon Eunbi's solo debut!
© 2023 Korea Portal, All rights reserved. Do not reproduce without permission.
Tags:
kwave
,
kwave news
,
kwave updates
,
Kpop
,
kpop news
,
Kpop updates
,
IZ*ONE
,
IZ*ONE news
,
IZ*ONE updates
,
IZ*ONE former members
,
IZ*ONE members
,
IZ*ONE leader
,
IZ*ONE main dancer
,
Kwon Eun Bi
,
Kwon Eun Bi news
,
Kwon Eun Bi updates
,
Kwon Eunbi
,
Kwon Eunbi news
,
Kwon Eunbi updates
,
Kwon Eunbi solo album
,
Kwon Eunbi solo
,
Kwon Eunbi solo debut
,
Kwon Eun Bi solo album
,
Kwon Eun Bi solo
,
Kwon Eun Bi solo debut
,
Eunbi
,
Eunbi news
,
Eunbi updates
,
Eunbi solo
,
Eunbi solo album
,
Eunbi solo debut
,
Woollim Entertainment
,
Woollim Entertainment news
,
Woollim Entertainment updates
,
Woollim Entertainment artists
,
Woollim artists
,
Woollim Entertainment Kwon Eun Bi
,
Woollim Entertainment Kwon Eunbi
,
Woollim Entertainment Eunbi