K-Pop Leader Cleverness: How ITZY's Yeji Used To 'Trick' Lia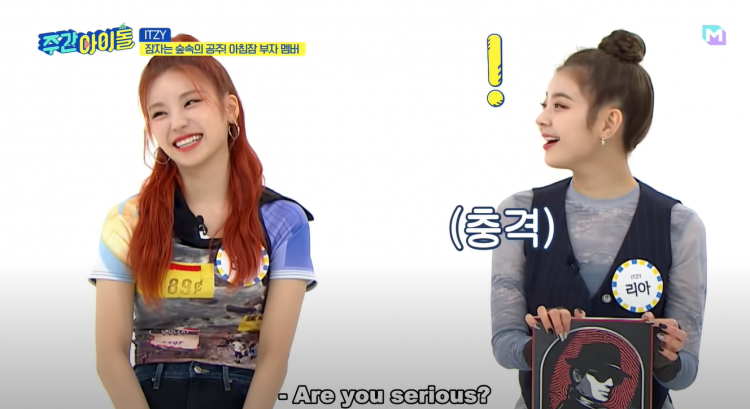 JYP Entertainment's ITZY recently made their comeback with their new album "GUESS WHO." ITZY's title track, "Mafia in the Morning," along with the 5 other tracks, are already considered hits and bops by most netizens and MIDZYs.
As always, when a K-pop girl group promotes their recent comeback, ITZY has been busy as they've made multiple appearances due to them being featured on multiple interviews, YouTube shows, and most notably, variety shows.
In a recent episode of the famous variety show "Weekly Idol", ITZY's Yeji, Lia, Ryujin, Chaeryeong, and Yuna, made an appearance. Aside from the usual fun that comes with being featured in "Weekly Idol", the members of ITZY share a hilarious secret about their vocalist, Lia.
As mentioned above, as of writing this article, in the most recent episode of "Weekly Idol," The members of ITZY shared that it takes their vocalist, Lia, a really long time to get ready before starting her day.
Furthermore, to combat this, ITZY's leader, Yeji, surprised the "Weekly Idol" hosts and Lia when she shared a certain secret.
In "Weekly Idol", when ITZY's members were asked why it took Lia a long time to be prepared, ITZY's Chaeryeong said that although they are not sure, they believe that ITZY's Lia 'moves around a lot'.
To supplement this, ITZY's Ryujin hilariously said that Lia simply 'moves inefficiently', causing the hosts and ITZY members to laugh.
ITZY's leader, Yeji, then shared a secret within ITZY.
"If there is a situation where ITZY only has around 15 minutes before being picked up, the ITZY members would tell Lia that they only have 5 minutes left since they know how long it takes for her to get ready," ITZY's Yeji spilled.
Naturally, ITZY's Lia was shocked as she was not aware of the secret.
But on the bright side, ITZY's main vocalist nowadays gets ready within a minute.
ITZY's Lia does this by not washing up in ITZY's dorm and cleaning herself at the salon. Moreover, ITZY's Lia now puts everything in her bag, carrying it around everywhere.
© 2023 Korea Portal, All rights reserved. Do not reproduce without permission.
Tags:
kwave
,
kwave news
,
kwave updates
,
Kpop
,
kpop news
,
Kpop updates
,
JYP
,
JYP artists
,
JYP Entertainment artists
,
JYP Entertainment
,
JYP Entertainment news
,
JYP Entertainment updates
,
JYP Entertainment ITZY
,
ITZY
,
ITZY News
,
ITZY updates
,
itzy videos
,
itzy interviews
,
itzy shows
,
ITZY variety shows
,
Weekly Idol
,
ITZY Weekly Idol
,
Weekly Idol ITZY
,
ITZY Yeji
,
ITZY Lia
,
ITZY Yeji news
,
ITZY Yeji updates
,
ITZY Lia news
,
ITZY Lia updates
,
yeji
,
lia
,
Yeji news
,
Lia news
,
Yeji updates
,
Lia updates
,
Yeji and Lia
,
Lia and Yeji
,
ITZY Yeji and Lia
,
ITZY Lia and Yeji