Yuna & Yeji Praised? Ryujin Upset? ITZY Talks About Park Jinyoung In Recent Broadcast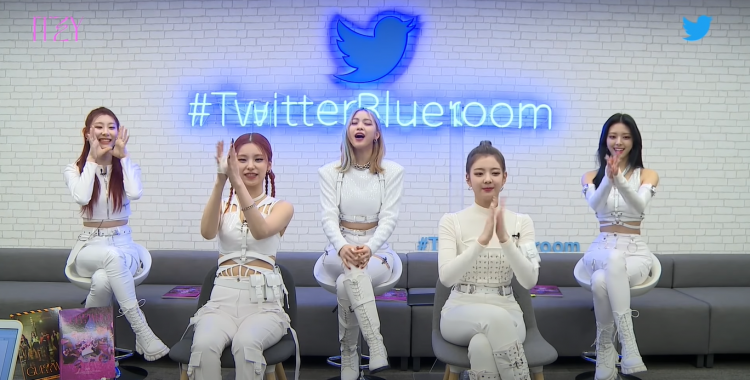 JYP Entertainment's ITZY recently made their comeback with their latest album, "GUESS WHO." ITZY's Yeji, Lia, Ryujin, Chaeryeong, and Yuna did an amazing job as always, more specifically on ITZY's title track, "Mafia in the Morning."
Recently to interact with fans and further promote their recent album, ITZY went on a live broadcast with Twitter Blueroom Live.
In the broadcast, the members of ITZY discussed multiple topics but among the subjects was how Park Jinyoung himself reacted to each of their lines during recording.
Recently, in a Twitter Blueroom Live, the members of ITZY shared some of Park Jinyoung's comments and reactions during the time ITZY recorded their latest album, "GUESS WHO."
It is common knowledge that heading JYP Entertainment, ITZY's agency, is Park Jinyoung. Moreover, Park Jinyoung also produced ITZY's latest title entitled "Mafia in the Morning."
In the live broadcast, ITZY's Yeji, Lia, Ryujin, Chaeryeong, and Yuna were told to share a couple of instances that occurred during the recording of ITZY's "GUESS WHO."
ITZY's maknae, Yuna, was able to share that Park Jinyoung clapped after she finished recording her parts for some songs.
"Our PD-nim (pertaining to Park Jinyoung), I can not forget his face. He was so touched after I was done recording, and he was even clapping for me. I did it like I was acting and not singing, and he saw me. When I came out, I was really moved," ITZY's Yuna explained.
ITZY's Yeji also got compliments from Park Jinyoung as he instructed her to act like a fox while she sang her part. ITZY's Yeji shared that she was able to do it, and she was promptly given compliments.
On the other end of the spectrum, ITZY's Ryujin did not get the same praise. According to the ITZY member, when she finished recording for ITZY's "Mafia in the Morning," Park Jinyoung said, "It's not bad. It's better than I thought."
ITZY's Ryujin was a bit shocked when she heard what Park Jinyoung commented.
ITZY's Ryujin thought to herself, "So, how did he think I would do?"
Although initially disappointed, ITZY's Ryujin was just ultimately happy that she was done recording her parts.
To read about netizens harshly criticizing Park Jinyoung for ITZY's comeback, click here.
© 2023 Korea Portal, All rights reserved. Do not reproduce without permission.
Tags:
kwave
,
kwave news
,
kwave updates
,
Kpop
,
kpop news
,
Kpop updates
,
JYP artists
,
JYP Entertainment
,
JYP
,
JYP Entertainment news
,
JYP Entertainment updates
,
Park Jin Young
,
Jinyoung Park
,
JYP Entertainment ITZY
,
ITZY
,
ITZY live
,
ITZY live broadcast
,
ITZY News
,
ITZY updates
,
ITZY Yeji
,
ITZY Yuna
,
ITZY Ryujin
,
ITZY Yeji news
,
ITZY Yeji updates
,
ITZY Yuna news
,
ITZY Yuna updates
,
ITZY Ryujin news
,
ITZY Ryujin updates
,
Yuna
,
Yuna news
,
Yuna updates
,
yeji
,
Yeji news
,
Yeji updates
,
Ryujin
,
Ryujin news
,
Ryujin updates
,
JYP ITZY
,
ITZY Guess Who
,
ITZY Mafia In The Morning
,
Guess Who
,
Mafia In The Morning
,
Twitter Blueroom Live
,
ITZY Twitter Blueroom Live
,
ITZY video
,
ITZY broadcast
,
ITZY live broadcasts