TWICE's Chaeyoung Adorably Apologizes To ITZY's Ryujin & Yuna For Previously Making Them 'Uncomfortable'!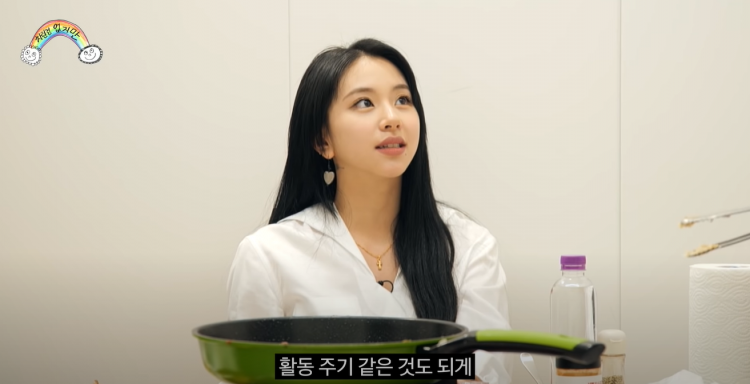 Seniors and juniors in the K-pop industry have a special bond. Juniors are there to give honor and respect, while seniors are there to guide and give advice. Thus, when ITZY debuted, TWICE's Chaeyoung made sure she was there for them.
But the TWICE member recently recalled her early interactions with ITZY's Ryujin and Yuna, and Chaeyoung believed she had to apologize for the 'awkwardness' she supposedly incurred.
READ: BLACKPINK's Jennie, aespa's Winter, TWICE's Jeongyeon, & More: December's Most Popular K-Pop Girl Group Member!
"Nothing Has Been Prepared," a popular web show hosted by Lee Young Ji, recently featured TWICE's Chaeyoung as a special guest.
In the show, TWICE's Chaeyoung talked about her pre-debut days, and she shared a story about an interaction she had with her fellow JYP Entertainment artist and junior, ITZY's Ryujin.
Initially, TWICE's Chaeyoung talked to Lee Young Ji about her early days as an idol.
"I think the existence of a senior is important to idols. But not long after our debut, Wonder Girls disbanded. I didn't have any seniors to ask for advice if I was having a hard time because I didn't have Miss A as well," TWICE's Chaeyoung explained.
Thus, TWICE's Chaeyoung took the opportunity to be a good senior when ITZY debuted, recalling a specific time where Chaeyoung invited ITZY's Ryujin after seeing her being down.
Although a sweet gesture, TWICE's Chaeyoung expressed that the conversation she had with ITZY's Ryujin while they were eating was not something she was proud of.
"It wouldn't have been comfortable for ITZY. We talked about things such as 'what's hard as an idol?' while eating, but it was too old-fashioned," TWICE's Chaeyoung noted.
For TWICE's Chaeyoung, she shared that she would have felt suffocated if her seniors had done that to her. For this reason, Chaeyoung apologized, referring to herself as an 'oldie' during her previous aforementioned interaction with her junior, ITZY's Ryujin.
TWICE's Chaeyoung also recalled a moment where she believes she made ITZY's Yuna 'uncomfortable' after inviting her to have a drink when she became 20.
But it seems as though both ITZY members were actually happy with what TWICE's Chaeyoung has done for them as it was revealed that Ryujin texted the TWICE member after the episode aired, assuring that the two have a good bond. Yuna also shared in a video that Chaeyoung actually made her feel comforted.
© 2023 Korea Portal, All rights reserved. Do not reproduce without permission.
Tags:
kwave
,
kwave news
,
kwave updates
,
Kpop
,
kpop news
,
Kpop updates
,
Nothing Has Been Prepared
,
Nothing Has Been Prepared news
,
Nothing Has Been Prepared updates
,
Nothing Has Been Prepared Lee Young Ji
,
Lee Young Ji Nothing Has Been Prepared
,
Lee Young Ji
,
Lee Young Ji news
,
Lee Young Ji updates
,
MC Lee Young Ji
,
TWICE Chaeyoung Nothing Has Been Prepared
,
Nothing Has Been Prepared TWICE Chaeyoung
,
Nothing Has Been Prepared Chaeyoung
,
Chaeyoung Nothing Has Been Prepared
,
JYP
,
JYP artists
,
JYP Entertainment
,
JYP Entertainment artists
,
JYP Entertainment news
,
JYP Entertainment updates
,
JYP Entertainment TWICE
,
JYP Entertainment TWICE Chaeyoung
,
JYP Entertainment Chaeyoung
,
JYP Entertainment ITZY
,
JYP Entertainment ITZY Yuna
,
JYP Entertainment ITZY Ryujin
,
JYP Entertainment Yuna
,
JYP Entertainment Ryujin
,
ITZY
,
ITZY News
,
ITZY updates
,
itzy members
,
ITZY and TWICE
,
TWICE and ITZY
,
ITZY Ryujin
,
ITZY Ryujin news
,
ITZY Ryujin updates
,
ITZY Yuna
,
ITZY Yuna news
,
ITZY Yuna updates
,
Ryujin
,
Ryujin news
,
Ryujin updates
,
Yuna
,
Yuna news
,
Yuna updates
,
TWICE
,
TWICE news
,
TWICE Updates
,
TWICE members
,
TWICE Chaeyoung
,
TWICE Chaeyoung news
,
TWICE Chaeyoung updates
,
Chaeyoung
,
Chaeyoung news
,
chaeyoung updates