ITZY's Lia & Chaeryeong Have A Difficult Time Doing Certain Dance Moves, Here's Why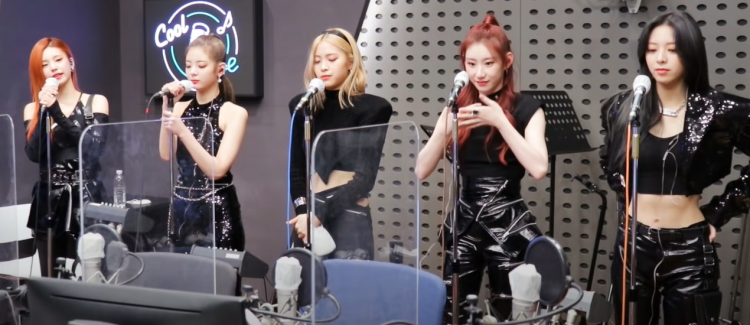 On the 30th of April, JYP Entertainment's ITZY dropped their recent comeback with their album "GUESS WHO" which had the title track "Mafia in the Morning."
Notably like most K-pop groups who have a comeback, ITZY made appearances on multiple shows, but in a recent feature on "KBS Cool FM Jung Eunji's Music Plaza," a radio show which is hosted by Apink member, Eunji, ITZY talked about a difficult dance choreography in "Mafia in the Morning."
Apink's Eunji asked, "I am so curious about this. You have to do a lot of dance practice, right? Are there members whose knees and waists are especially painful? I am worried. If so, who is it? Who is having a hard time recently?"
"The members in our team who have especially bad knees are, although all of our knees are not so good, Lia and Chaeryeong have especially bad knees," ITZY's Ryujin answered.
Apink's Eunji went on to talk about ITZY's choreography for "Mafia in the Morning." More specifically, she mentioned the part of the song where three members kneel while the other two members stay standing.
ITZY's Ryujin revealed that due to ITZY's Lia and Chaeryeong's knees being quite bad, the members of ITZY eventually had to do that specific choreography standing up. Only ITZY's Yeji, Ryujin, and Yuna decidedly end up kneeling.
"Only me, Yeji, and Yuna, the three of us actually, do the choreography that makes use of our knees," ITZY's Ryujin added.
Apink's Eunji then inquired about ITZY's ending pose for "Mafia in the Morning," mentioning that ITZY's Lia ends up on her knees. Eunji even commented how that must have hurt for her.
ITZY's Lia went on to comment that it is inevitable for her to use her knees. For Lia, the whole choreography for "Mafia in the Morning" actually forced ITZY to use their knees quite a lot.
ITZY's Chaeryeong went on to add, "Actually, I feel very sorry towards the other ITZY members. The choreography really requires so much energy and the moves really hurt the knees. They are so considerate [...] Initially, all of us were supposed to do this dance move together."
© 2023 Korea Portal, All rights reserved. Do not reproduce without permission.
Tags:
KBS
,
KBS news
,
KBS updates
,
KBS Cool FM Jung Eunji's Music Plaza
,
Apink
,
Apink Eunji
,
Apink Eunji show
,
Apink Eunji news
,
Apink Eunji updates
,
Apink Eunji hosts
,
kwave
,
radio shows
,
Apink Eunji radio show
,
Eunji
,
kwave news
,
kwave updates
,
Kpop
,
kpop news
,
Kpop updates
,
JYP
,
JYP artists
,
JYP Entertainment
,
JYP Entertainment news
,
JYP Entertainment updates
,
JYP Entertainment ITZY
,
ITZY
,
ITZY News
,
ITZY updates
,
ITZY Guess Who
,
ITZY Comeback
,
ITZY Mafia In The Morning
,
Mafia In The Morning
,
Guess Who
,
ITZY show
,
ITZY radio show
,
ITZY Yeji
,
ITZY Ryujin
,
ITZY Lia
,
ITZY Yuna
,
ITZY Chaeryeong
,
yeji
,
Ryujin
,
Yuna
,
lia
,
Chaeryeong
,
Mafia in the Morning choreography
,
ITZY choreography