Mnet's 'Kingdom' Heats Up As Stray Kids, SF9, And ATEEZ Are Up Next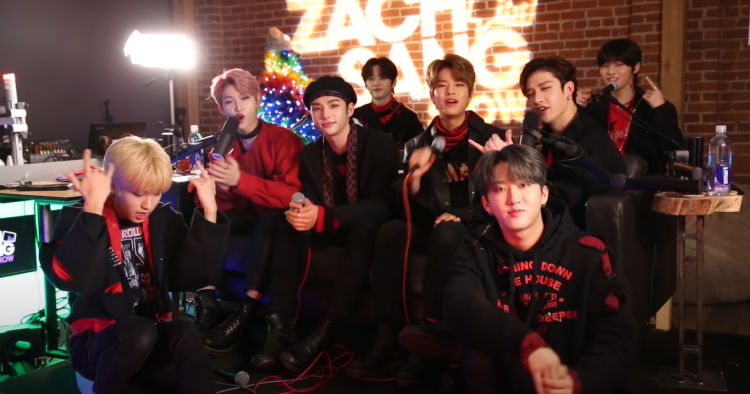 Mnet's "Kingdom: Legendary War" released not so long ago and is already heating up as the next episodes feature Stray Kids, SF9, and ATEEZ.
The survival show, Mnet's "Kingdom: Legendary War," dropped a preview for the next episode showcasing the remaining three K-pop boy groups to perform for the first round of the survival show.
A little over one week ago, the episode of Kingdom showed performances by the K-pop boy groups THE BOYZ, iKON, and BTOB. The boys showed their dynamic moves and impeccable vocal range.
The remaining three male K-pop groups, Stray Kids, SF9, and ATEEZ, will have their time to shine on the upcoming and anticipated episode.
Mnet uploaded a preview video on their official YouTube channel. In the video, it showed Stray Kids doing a unique mashup of their songs, "Side Effects" and "God's Menu." As this happened, Inseong of SF9 showed his astonishment by saying, "Wow, the scale..." and Wooyoung of ATEEZ Wooyoung held up Changbin's name on his phone as they are good friends.
After, SF9 teased their fiery performance of their track "Jealous." Their performance will make use of mirrors, and it was shown that Stray Kids' Changbin commented that they're sexy.
The last of the three K-pop groups, ATEEZ, will be showcasing their "Symphony No. 9 'From The Wonderland,'" which will be done as they dress up as pirates.
iKON's very own Bobby was impressed as the preview video showed him saying, "It's the kraken!"
At the end of the preview, it showed the remaining rankings for the first round, but it was censored.
Previously, "Kingdom: Legendary War" was under fire after they remarked that the K-pop boy groups could not interact with one another. Moreover, they also censored B.I, a former iKon member, from their promotions.
Stay tuned for Mnet's "Kingdom," as it seems to be gaining more momentum with the upcoming performances!
© 2023 Korea Portal, All rights reserved. Do not reproduce without permission.
Tags:
Kpop
,
kpop news
,
Kpop updates
,
kwave
,
kwave news
,
kwave updates
,
Mnet
,
Mnet Kingdom
,
kingdom
,
Kingdom news
,
Kingdom updates
,
mnet news
,
mnet updates
,
Mnet Kingdom Legendary War
,
Kingdom: Legendary War
,
Kingdom Legendary War news
,
Kingdom Legendary War updates
,
The Boyz
,
iKon
,
BtoB
,
stray kids
,
SF9
,
ATEEZ