TWICE Mina's Gift Will Melt Your Heart In Latest 'TW-LOG with SECRET FRIEND'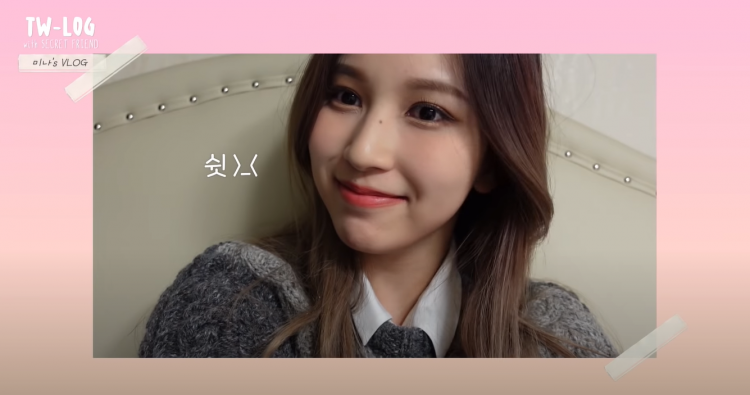 The 9th of March was a very special day for ONCEs all over the world. TWICE's most recent variety/reality show, which is titled "TW-LOG With Secret Friend," was uploaded for the first time.
The main goal of the show/vlog is for the girls to turn into "Secret Santas" for one another, giving gifts to the TWICE member assigned to them, respectively. Additionally, they are given a special task/mission that should be accomplished on or before their vlog is uploaded.
In the first episode, Jeongyeon was the first to be featured. The mission given to her was to take a selfie with the TWICE member she was assigned to. After that, post the photo on TWICE's official Instagram account. On TWICE's Instagram, the only member that is seen with Jeongyeon in a selfie was Momo. Speculations point to TWICE's main dancer.
The second episode was uploaded on the 16th of March, and this time, it featured TWICE's maknae, Tzuyu. Tzuyu's mission was to kiss the TWICE member she was assigned to, which she already did prior to her vlog. She also decided that the gift she would give the person assigned to her was a polaroid camera which sold out almost immediately online after fans decided they wanted it too.
Their most recent episode featured TWICE's resident ballerina, Mina. For her mission, Mina was tasked to massage the TWICE member she was assigned to and get it on camera. Stealthily, Mina was able to massage the person assigned to her while inquiring about the pants the TWICE member wore.
Moreover, Mina wanted to give a gift that was very special. So the thoughtful queen that she is took knitting lessons and knitted a yellow and purple pouch adorned with strawberry designs. It was not easy since Mina had no experience in knitting, but it was all worth it for her.
With this gesture, TWICE's Mina is shown to be incredibly thoughtful and very sincere. Instead of buying a gift, she wanted to make one from scratch. Although she had a difficult time at the start, she persevered and eventually made a very unique and beautiful present.
© 2023 Korea Portal, All rights reserved. Do not reproduce without permission.
Tags:
Kpop
,
kpop news
,
Kpop updates
,
JYP Entertainment
,
JYP
,
JYP artists
,
JYP Entertainment news
,
JYP Entertainment updates
,
JYP Entertainment TWICE
,
TWICE
,
TWICE news
,
TWICE Updates
,
TWICE Mina
,
Mina
,
TW-LOG With Secret Friend
,
TWICE TW-LOG With Secret Friend
,
TWICE TW-LOG With Secret Friend
,
Mina TWICE TW-LOG with SECRET FRIEND
,
TWICE vlog
,
TWICE shows
,
Mina vlog
,
twice vids
,
twice videos