TWICE's Tzuyu Brings Grace In 2nd Episode Of TWICE's 'TW-LOG With Secret Friend'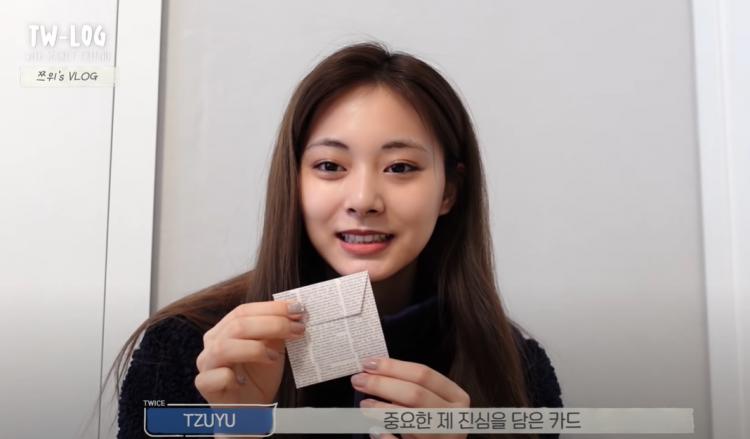 Aside from their immeasurable talent and powerful visuals, JYP Entertainment's TWICE is also known for their constant release of content. Aside from their music, TWICE's official YouTube channel is filled with multiple reality shows, variety shows, vlogs, performances, and many more that are connected to the K-pop group.
But almost two weeks ago, on the 9th of March, TWICE's latest variety/reality show entitled "TW-LOG With Secret Friend" was released to the public.
The premise of the show is that the girls turn into "Secret Santas" for one another and they must stealthily give their gifts to the members assigned to them. Moreover, they are given special missions that they should accomplish.
During the first episode, one of TWICE's vocals, Jeongyeon, was the first to be featured. Jeongyeon got a message that showed her who she would be a Secret Santa for and the mission she was gonna do.
The mission was that she was supposed to take a selfie with the TWICE member she was assigned with and then post it on TWICE's official Instagram account. Upon checking their insta, the only photo of Jeongyeon taking a selfie was with Momo, so it is assumed it was her.
Just recently, the second episode was uploaded on the 16th of March, and this time, it featured TWICE's maknae, Tzuyu. Tzuyu was also given a mission and then the TWICE member she was assigned to.
Tzuyu, as a Secret Santa, decided to give the member assigned to her a polaroid camera for her gift. Initially, she did not know what to get as a gift for the person she was assigned to, but she decided on the camera because she thought it was cute.
Additionally, Tzuyu's mission was to kiss the TWICE member she was assigned to. A couple of days prior to the video, Tzuyu revealed that she already successfully passed the mission given to her.
As Tzuyu did her vlog, her doggies, Butter and Kaya, were also featured. The vlog ended with Tzuyu making a special note for the member she was assigned to.
© 2023 Korea Portal, All rights reserved. Do not reproduce without permission.
Tags:
Kpop
,
kpop news
,
Kpop updates
,
JYP Entertainment
,
JYP Entertainment news
,
JYP Entertainment updates
,
TWICE
,
JYP Entertainment TWICE
,
TWICE news
,
TWICE Updates
,
Twice Tzuyu
,
Tzuyu
,
Tzuyu News
,
Tzuyu updates
,
TWICE show
,
twice vids
,
twice videos
,
TWICE reality show
,
TW-LOG With Secret Friend
,
TW-LOG With Secret Friend