1st Episode Of TWICE's 'TW-LOG With Secret Friend' Starts Off With Vocalist, Jeongyeon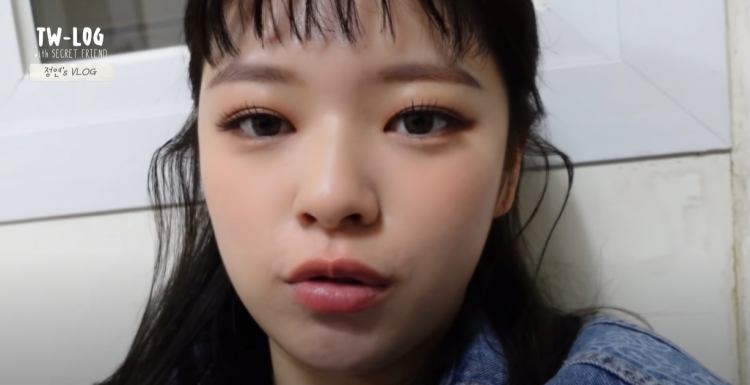 TWICE's Jeongyeon finally returned from her three-month hiatus. The TWICE vocalist was just in time to be part of TWICE's second online concert. ONCEs and all the TWICE members were very welcoming and showed their support.
Coincidentally, right when Jeongyeon came back, TWICE launched their latest variety/reality show on the 9th of March, entitled "TW-LOG With Secret Friend." The rules of the show are as follows:
1. Film a vlog about your daily life.
2. Prepare a present as a Secret Santa and carry out a mission.
3. Gather around and disclose Secret Santa and exchange gifts. (Do your best not to get caught)
At the beginning of the first episode, TWICE was asked to choose a flavor of ice cream for the members to find out for whom they'd be a Secret Santa for.
TWICE members chose the following ice cream flavors:
Jeongyeon - Shooting Star
Jihyo - Mom is an Alien
Dahyun - Almond bon bon
Nayeon - Strawberries in Love
Sana - Mint Chocolate
Chaeyoung - Yogurt
Mina - Rainbow
Momo - Chocolate
Tzuyu - New York Cheesecake
In the episode, Jeongyeon was the first to go. She received a message that conveyed who she would be a Secret Santa for and the mission she was gonna do. Both were hidden from the viewers to increase impact.
Before she began vlogging, Jeongyeon noted that she already gave the gift (Jeongyeon prepared a snow duck maker for her gift) to the TWICE member she was assigned to, so she only had to do the mission.
Jeongyeon's mission is to take a selfie with the TWICE member she is assigned to and post it on TWICE Instagram. She is worried she might not succeed in the mission since she does not regularly ask the girls for selfies with her, eventually ending in a cliff-hanger. After checking their Instagram, Jeongyeon can be seen taking a selfie with Momo.
She ends the episode in a very sweet way: by pondering on how the other girls are doing. Even though Jengyeon recently returned due to anxiety, she still takes the time to remember her fellow TWICE members.
© 2023 Korea Portal, All rights reserved. Do not reproduce without permission.
Tags:
Kpop
,
kpop news
,
Kpop updates
,
JYP Entertainment
,
JYP
,
JYP Entertainment TWICE
,
TWICE
,
TWICE news
,
TWICE Updates
,
TWICE Jeongyeon
,
TWICE JEONGYEON HIATUS
,
Jeongyeon
,
Jeongyeon news
,
Jeongyeon updates
,
TW LOG Secret Friend
,
TWICE variety show
,
TWICE reality show
,
Variety show
,
reality show
,
Kpop reality show
,
kpop variety show