Odd Woman Out, LE SSERAFIM Showered With Compliments In Live Performance Except For One Member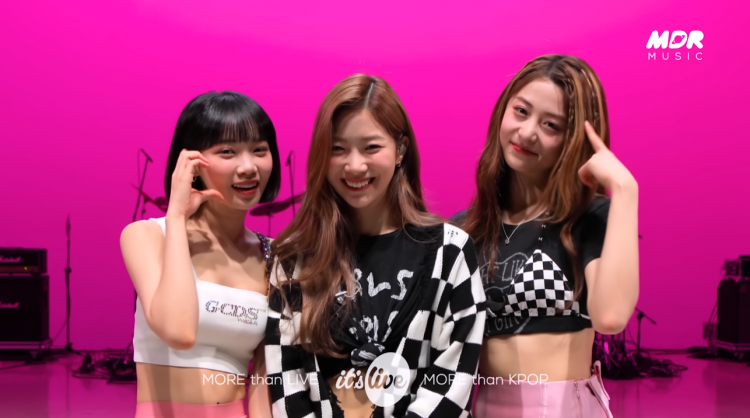 On the 7th of May, the YouTube channel "It's Live" posted a video featuring LE SSERAFIM. In the vid, the K-Pop girl group performed their debut single entitled "FEARLESS" with a live band.
READ: LE SSERAFIM Members Reveal How They Honestly Feel About Their GG Name
Viewers were pleasantly surprised as LE SSERAFIM had clear and clean vocals. But not only did the girl group sing live, but Sakura, Garam, Eunchae, Chaewon, Kazuha, and Yunjin showed off their skills on the dance floor.
Notably, some members went on to positively stand out. Specifically, Eunchae, Kazuha, and Yunjin. The maknae stunned viewers with her perfect expression while Kazuha was praised for her rap skills, blending seamlessly with Yunjin.
But not all members of LE SSERAFIM received love. Viewers were rather not fond of Kim Garam.
READ: LE SSERAFIM's Garam Inappropriately Questioned Regarding Her Pre-Debut 'Controversy'
Garam was praised for performing with gusto, but it was evident that viewers were not happy with her being forced to be at the center. Netizens believe that the most popular members should be at the center. Specifically, LE SSERAFIM's Sakura and Kazuha.
Viewers believe that LE SSERAFIM could be immensely popular. But only if Source Music wraps up the investigations regarding Kim Garam's scandal. The girl group's fans hope that the label is seeing an end to the allegations against the idol as LE SSERAFIM continues with its promotions.
Specifically, the LE SSERAFIM member was embroiled in school bullying accusations. People who claimed to be classmates with the idol accused her of underage smoking and drinking. Garam was also supposedly bullying her juniors.
READ: Official Track List For First CD In BTS' Upcoming 'PROOF' Album Has Been Revealed To ARMYs
Check out the K-Pop group's performance on "It's Live" here:
Stay tuned for more news and updates regarding LE SSERAFIM and other K-Pop artists!
© 2023 Korea Portal, All rights reserved. Do not reproduce without permission.
Tags:
kwave
,
kwave news
,
kwave updates
,
Kpop
,
kpop news
,
Kpop updates
,
It's Live
,
It's Live news
,
It's Live updates
,
LE SSERAFIM It's Live
,
It's Live LE SSERAFIM
,
LE SSERAFIM
,
LE SSERAFIM news
,
LE SSERAFIM updates
,
HYBE
,
HYBE artists
,
HYBE LE SSERAFIM
,
HYBE Labels
,
HYBE Labels LE SSERAFIM
,
HYBE Labels artists
,
Source Music
,
Source Music news
,
Source Music Updates
,
Source Music LE SSERAFIM