LE SSERAFIM Members Reveal How They Honestly Feel About Their GG Name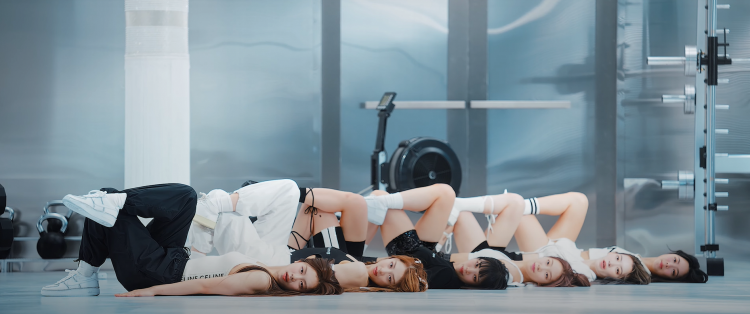 HYBE has finally debuted LE SSERAFIM, their first K-Pop girl group. Having a unique name, the group as a whole immediately caught the attention of netizens. But how do the members really feel about being called "LE SSERAFIM"? Find out here.
LE SSERAFIM is made up of the 6 members Chaewon, Sakura, Yunjin, Kazuha, Garam, and Eunchae. The members had their debut showcase on the 2nd of May at Jangchung Municipal Stadium. In the showcase, the members talked about a plethora of topics, including their group name.
LE SSERAFIM is an anagram of "I'M FEARLESS." Specifically, this is their concept as the members do not fear anything. In their debut showcase, Yunjin shared her thoughts on the group's name.
READ: LE SSERAFIM Releases Promotion Timetable For Debut Album 'FEARLESS'
"As soon as I heard the name, I thought it was very classy. It was weirdly emotional. I remember getting chills and a little teary-eyed," LE SSERAFIM's Yunjin admitted.
Furthermore, LE SSERAFIM's Japanese member Kazuha explained the origin of her group's name. As per the member, LE SSERAFIM was named by Bang Shi Hyuk PD. Kazuha noted that he was the one who came up with the idea to use an anagram of "I'M FEARLESS."
Adding to this, when asked what the emotions of LE SSERAFIM are, member Chaewon had a cryptic yet concise answer.
"We are honestly just honored to be able to be contemporaries of the cool seniors already promoting. Because we just debuted, it is difficult to pinpoint and say, 'These are our emotions.' However, I do like that our thoughts and views of the world are reflected in our debut album.," LE SSERAFIM's Kim Chaewon noted.
Congratulations to LE SSERAFIM for having a successful debut!
READ: LE SSERAFIM's Garam Inappropriately Questioned Regarding Her Pre-Debut 'Controversy'
© 2023 Korea Portal, All rights reserved. Do not reproduce without permission.
Tags:
kwave
,
kwave news
,
kwave updates
,
Kpop
,
kpop news
,
Kpop updates
,
HYBE
,
HYBE artists
,
HYBE LE SSERAFIM
,
LE SSERAFIM
,
LE SSERAFIM news
,
LE SSERAFIM updates
,
LE SSERAFIM DEBUT
,
LE SSERAFIM showcase
,
LE SSERAFIM debut showcase
,
LE SSERAFIM name
,
HYBE Labels
,
HYBE Labels artists
,
HYBE Labels LE SSERAFIM
,
Source Music
,
Source Music news
,
Source Music Updates
,
Source Music LE SSERAFIM