IU, Girls' Generation's Taeyeon, BLACKPINK Members, & More, YouTube's Most Popular Female K-Pop Idols!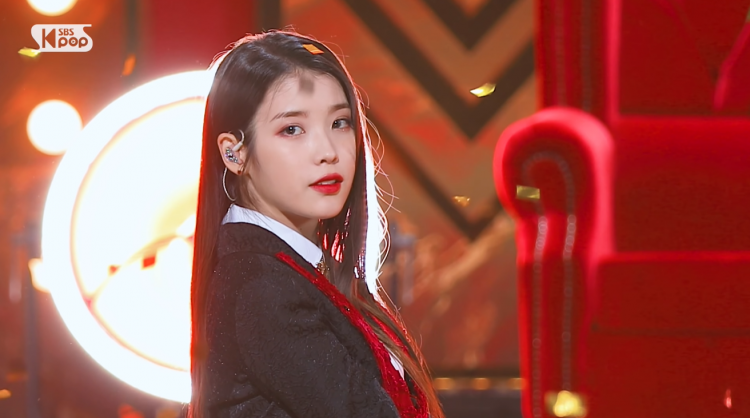 To the delight of netizens and K-pop fans, YouTube statistics which ranged from January 1, 2021, to December 31, 2021, listed down the most searched female K-pop idols in Korea for the year 2021!
Notably, EDAM Entertainment's legendary K-pop soloist IU took the top spot!
READ: BLACKPINK's Lisa Takes Home The Crown For January's Brand Reputation Rankings, See Full Ranking Here!
IU notably had a very successful 2021, dropping a myriad of Kpop hits. On the 27th of January last year, IU dropped the single "Celebrity" as a pre-release to her hit album, "LILAC." IU's album then dropped on the 25th of March, almost being an immediate success.
Following those releases, on the 19th of October, IU dropped her digital single "strawberry moon." Lastly on the 29th of December, IU dropped her special album "Pieces," simultaneously to end 2021 properly and to start 2022 with a bang!
But beyond IU, there are other female K-pop idols that are among the most searched in YouTube in Korea for 2021.
Without further adieu, here are the most searched female idols on YouTube Korea for 2021:
#50 Seo Soojin
#49 TWICE Tzuyu
#48 aespa Ningning
#47 Im Nayoung
#46 Miyawaki Sakura
#45 STAYC Sieun
#44 ITZY Yeji
#43 Red Velvet Yeri
#42 TWICE Momo
#41 Kwon Eunbi
#40 Red Velvet Wendy
#39 (G)I-DLE Shuhua
#38 ITZY Chaeryeong
#37 IVE Leeseo
#36 IVE Ahn Yujin
#35 Kim Minju
#34 Choi Yena
#33 Kim Chaewon
#32 TWICE Sana
#31 TWICE Jihyo
#30 Lee Mijoo
#29 Oh My Girl Seunghee
#28 (G)I-DLE Miyeon
#27 Lee Chaeyeon
#26 ITZY Yuna
#25 Oh My Girl YooA
#24 (G)I-DLE Soyeon
#23 Oh My Girl Binnie
#22 ITZY Ryujin
#21 Red Velvet Seulgi
#20 (G)I-DLE Yuqi
#19 TWICE Nayeon
#18 Jo Yuri
#17 MAMAMOO Hwasa
#16 Girls' Generation (SNSD) Yoona
#15 Apink Jung Eunji
#14 BLACKPINK Lisa
#13 Red Velvet Irene
#12 BLACKPINK Jisoo
#11 aespa Karina
#10 IVE Jang Wonyoung
#9 Oh My Girl Arin
#8 Chungha
#7 Red Velvet Joy
#6 Sunmi
#5 aespa Winter
#4 BLACKPINK Jennie
#3 BLACKPINK Rosé
#2 Girls' Generation (SNSD) Taeyeon
#1 IU
Congratulations to the female K-pop idols who were the most searched in 2021!
© 2023 Korea Portal, All rights reserved. Do not reproduce without permission.
Tags:
kwave
,
kwave news
,
kwave updates
,
Kpop
,
kpop news
,
Kpop updates
,
YouTube
,
most searched kpop artists
,
most searched kpop artists on YouTube
,
Female Kpop idols
,
Female Kpop artists
,
Seo Soojin
,
Soojin
,
(G)I-DLE
,
(G)I-DLE Soojin
,
TWICE
,
Twice Tzuyu
,
Tzuyu
,
aespa
,
aespa NingNing
,
Ningning
,
Nayoung
,
Im Nayoung
,
Miyawaki Sakura
,
Sakura
,
STAYC
,
STAYC Sieun
,
Sieun
,
ITZY
,
ITZY Yeji
,
yeji
,
Red Velvet
,
Red Velvet Yeri
,
Yeri
,
TWICE Momo
,
Momo
,
Kwon Eunbi
,
Eunbi
,
Red Velvet Wendy
,
Wendy
,
(G)I-DLE Shuhua
,
Shuhua
,
ITZY Chaeryeong
,
Chaeryeong
,
IVE
,
IVE Leeseo
,
Leeseo
,
IVE Ahn Yujin
,
IVE Yujin
,
Ahn Yujin
,
Yujin
,
Kim Minju
,
Minju
,
Choi Yena
,
Yena
,
Kim Chaewon
,
Chaewon
,
TWICE Sana
,
Sana
,
twice jihyo
,
Jihyo
,
Lee Mijoo
,
Mijoo
,
Oh My Girl
,
Oh My Girl Seunghee
,
Seunghee
,
(G)I-DLE Miyeon
,
Miyeon
,
Lee Chaeyeon
,
Chaeyeon
,
ITZY Yuna
,
Yuna
,
Oh My Girl YooA
,
YooA
,
(G)I-DLE Soyeon
,
Soyeon
,
Oh My Girl Binnie
,
Binnie
,
ITZY Ryujin
,
Ryujin
,
red velvet seulgi
,
Seulgi
,
(G)i-DLE YUQI
,
Yuqi
,
TWICE Nayeon
,
Nayeon
,
Jo Yuri
,
Yuri
,
Mamamoo
,
MAMAMOO Hwasa
,
Hwasa
,
Girls' Generation
,
Girls' Generation Yoona
,
SNSD Yoona
,
SNSD
,
Yoona
,
Apink
,
Apink Jung Eunji
,
Eunji
,
Jung Eunji
,
BLACKPINK
,
blackpink lisa
,
Lisa
,
Red Velvet Irene
,
Irene
,
blackpink jisoo
,
Jisoo
,
aespa Karina
,
karina
,
IVE Jang Wonyoung
,
IVE Wonyoung
,
Jang Wonyoung
,
Wonyoung
,
Oh My Girl Arin
,
Arin
,
Chungha
,
Red Velvet Joy
,
Joy
,
Sunmi
,
aespa Winter
,
winter
,
blackpink jennie
,
Jennie
,
blackpink rose
,
Rose
,
SNSD Taeyeon
,
girls generation taeyeon
,
Taeyeon
,
IU