Neverlands Emotional As (G)I-DLE's Shuhua Accidentally & Painfully Mentions Soojin In Live Broadcast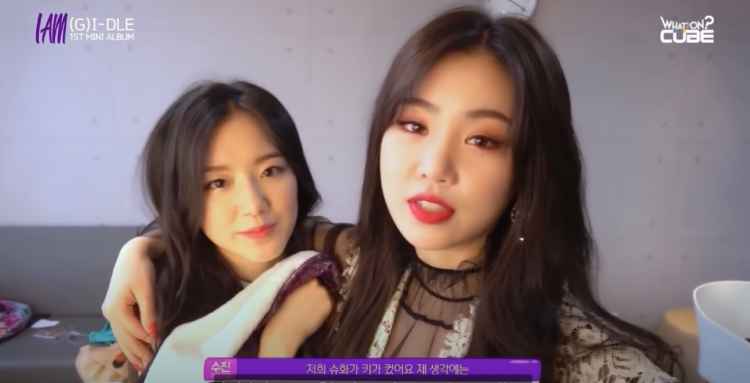 On the 14th of August, (G)I-DLE's agency, Cube Entertainment, announced that Soojin would be parting ways from (G)I-DLE following her ongoing bullying allegations, to the shock of Neverlands and netizens all over the world.
Notably, (G)I-DLE's Soojin adamantly denied the accusations brought up towards her, Cube Entertainment still pushed through on the decision of removing the main dancer from the K-pop girl group.
Now, more than a month has passed since the painful news of Soojin's departure from (G)I-DLE but people are still grieving, including the members of (G)I-DLE themselves. This was recently evident as in a live broadcast, Shuhua accidentally mentioned Soojin, and fans immediately saw the pain in her eyes.
Just very recently, (G)I-DLE's Shuhua went on to interact with Neverlands (the fandom name of (G)I-DLE) and her friends in a V Live session. Initially, the live broadcast was cheerful but due to one single moment where Shuhua slipped up, the mood quickly turned gloomy and sad.
(G)I-DLE's Shuhua was happily talking about the dancing abilities of her fellow members when she accidentally slipped up and began saying 'Soo', clearly almost saying Soojin.
When she caught herself, fans immediately saw Shuhua's eyes which were filled with immediate sadness and longing. The (G)I-DLE maknae and visual even paused for a second, taking time to breathe and compose herself.
After she was able to gather herself, Shuhua continued her sentence by saying 'Soyeon' instead of 'Soojin'.
Fans in the live broadcast were then quick to console and offer words of sympathy and support to (G)I-DLE's Shuhua following her slip up.
Fans still find it hard to move on from the sudden announcement of Soojin's departure. But it seems as though the members of (G)I-DLE also find it equally or even harder as they have been with Soojin since the very beginning.
© 2023 Korea Portal, All rights reserved. Do not reproduce without permission.
Tags:
kwave
,
kwave news
,
kwave updates
,
Kpop
,
kpop news
,
Kpop updates
,
CUBE
,
CUBE artists
,
Cube Entertainment
,
Cube Entertainment news
,
Cube Entertainment updates
,
Cube Entertainment (G)I-DLE
,
Cube Entertainment (G)I-DLE Shuhua
,
(G)I-DLE
,
(G)I-DLE news
,
(G)I-DLE updates
,
(G)I-DLE members
,
(G)I-DLE Shuhua
,
(G)I-DLE Shuhua news
,
(G)I-DLE Shuhua updates
,
(G)I-DLE Shuhua live broadcast
,
live broadcast (G)I-DLE Shuhua
,
(G)I-DLE Shuhua V LIVE
,
V LIVE (G)I-DLE Shuhua
,
Shuhua
,
Shuhua news
,
Shuhua updates
,
Shuhua V LIVE
,
V LIVE Shuhua
,
Shuhua live broadcast
,
live broadcast Shuhua
,
Soojin
,
Soojin news
,
Soojin updates