IMAX Trailer For 'Spider-Man: No Way Home' Confirms Absence Of Supposedly Key Marvel Hero!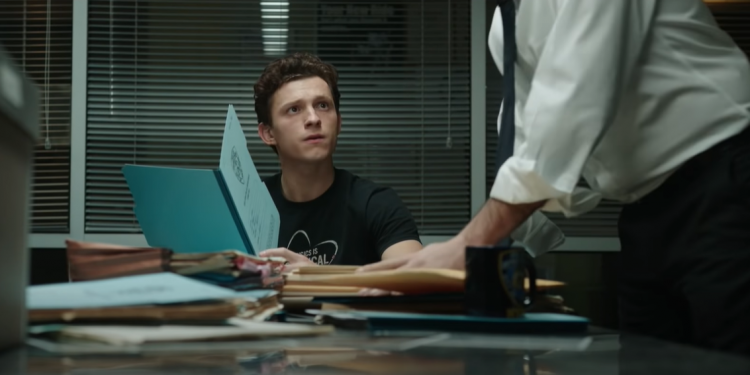 Just recently, the IMAX trailer for "Spider-Man: No Way Home" was uploaded online and it might have finally quashed theories and hopes that a certain Marvel hero will appear in the upcoming Marvel Cinematic Movie.
Former Spider-Men, Tobey Maguire and Andrew Garfield, have been in a plethora of rumors regarding their appearance in the upcoming Spider-Man film helmed by Tom Holland. But beyond them, a plethora of other characters have been rumored to appear as well.
In the "Spider-Man: No Way Home" trailer, there was a part where Peter Parker was brought in to be detained and questioned about his possible hand in the death of Mysterio. In the scene, fans were hopeful as the forearms of an anonymous man were seen slapping down a folder that was filled with paperwork.
From this, fans were theorizing that it was none other than Charlie Cox aka Matt Murdock aka Daredevil himself, appearing in "Spider-Man: No Way Home" as Peter's lawyer. But it seems as though that the hand did not even belong to Daredevil in the first place. But does this mean he is out of the film?
On the 5th of September, a Twitter user uploaded the IMAX version of the "Spider-Man: No Way Home" trailer which supposedly played in theaters before "Shang-Chi and the Legend of Ten Rings."
Due to the higher scale-resolution, it was confirmed that the forearms were not Charlie Cox's. Although this debunks initial claims, perhaps Daredevil might still have a chance of appearing in the upcoming Marvel movie.
One more trailer for "Spider-Man: No Way Home" is slated to drop within this year and is assumed to be released in time or leading up to Marvel's upcoming movie, "Eternals." Hopefully, the trailer will shed some more light on the matter.
Stay tuned for more updates regarding Marvel's "Spider-Man: No Way Home"!
© 2023 Korea Portal, All rights reserved. Do not reproduce without permission.
Tags:
US
,
US news
,
US updates
,
Marvel
,
Marvel News
,
Marvel updates
,
Marvel Cinematic Universe
,
Marvel Cinematic Universe news
,
Marvel Cinematic Universe updates
,
Sony
,
Sony news
,
Sony updates
,
Spider-Man
,
Spider-Man news
,
Spider-Man updates
,
Spider-Man: No Way Home
,
Spider-Man: No Way Home news
,
Spider-Man: No Way Home updates
,
Spider-Man: No Way Home appearances