Who Are The 'Eternals'? Here's What We Know On MARVEL's Upcoming Blockbuster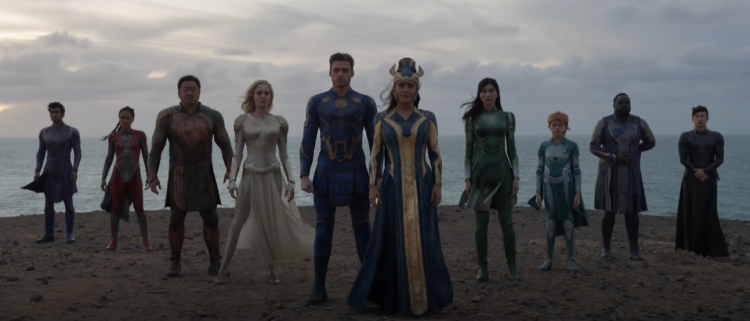 The MCU's phase four has now officially begun as "Black Widow" will be officially releasing tomorrow on the 7th of July. Following this will be "Shang-Chi and the Legend of the Ten Rings" in September.
Although the pandemic has been raging, it seems that MARVEL is not planning on stopping in terms of shelling out blockbuster superhero movies. This is evident as a new group of heroes will come forward in November, right after the Shang-Chi movie.
The heroes being the enigmatic "Eternals."
Notably, MARVEL has hinted that the 'Eternals' are known as an ancient alien race who have been hiding on Earth eons now. Basically, guardians and shepherds of humans, leading humans towards a brighter and more technologically advanced state.
In the trailer, it was noted that the 'Eternals' have never interfered with the affairs of humans, up until now. This is where the "Eternals" movie is set.
MARVEL's "Eternals" will finally be released on the big screens this coming 5th of November. Little is known about the upcoming film and MARVEL plans to keep it this way as Disney has not released any hints, cryptic or straightforward, regarding the film.
What is known so far is that the "Eternals" film will be Marvel Studios' first film helmed by Chloé Zhao as a director. Chloé Zhao will also be in charge of the screenplay alongside Patrick Burleigh.
Moreover, the "Eternals" film is filled with an amazing list of immensely talented actors and actresses, beyond their talented director and behind-the-screen staff
Notably, Gemma Chan, Richard Madden, Angelina Jolie, Kumail Nanjiani, Lauren Ridloff, Brian Tyree Henry, Lia McHugh, Don Lee (also known as Ma Dong-seok), Barry Keoghan, Salma Hayek, and Kit Harington will be comprising the main cast of MARVEL's "Eternals."
Are you excited for a plethora of new heroes gracing the Marvel Cinematic Universe?
© 2023 Korea Portal, All rights reserved. Do not reproduce without permission.
Tags:
US
,
US news
,
US updates
,
US Entertainment
,
mcu
,
Marvel
,
Marvel Studios
,
The Eternals
,
Eternals
,
Ma Dong Seok The Eternals
,
Chloé Zhao
,
Patrick Burleigh
,
Gemma Chan
,
Richard Madden
,
Angelina Jolie
,
Kumail Nanjiani
,
Lauren Ridloff
,
Brian Tyree Henry
,
Lia McHugh
,
don lee
,
Ma Dong Seok
,
Ma Dongseok
,
Ma Dong Seok
,
Barry Keoghan
,
salma hayek
,
Kit Harington