Some Cinemas Accidentally List The Runtime For 'Spider-Man: No Way Home'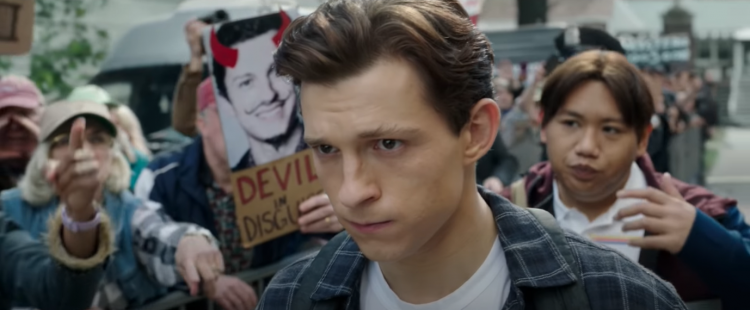 Marvel and Sony's "Spider-Man: No Way Home" previously had its teaser leaked and it might have once again been leaked, but in a different way, as its runtime may have been revealed by a movie theater ticketing service.
Notably, "Spider-Man: No Way Home" is set to be dropped months from now on the 17th of December and although its first teaser has been dropped, the film is still shrouded in a lot of mystery.
Aside from this, another set of information might just have been accidentally leaked regarding how long viewers get to spend time with Spider-man and friends. Cineworld, a UK-based theater chain, has gone on to create a ticket listing for "Spider-Man: No Way Home."
In the listing, the cinema chain went on to include the runtime for "Spider-Man: No Way Home."
Notably, as of writing this article, the information has not been available to the public yet. But as per the listing, "Spider-Man: No Way Home" will be around 150 minutes long which is 2 hours and 30 mins.
Although plausible, this might just be a mistake. Previously in 2019, the supposed runtime for "Star Wars: The Rise of Skywalker" was leaked prior to its debut.
There are times where the software that provides the listing requires an entry and sometimes a generic number is entered in the box for the meantime. This might explain the perfect timing of the number 150.
But this is not far from the truth though as two and half hours is perfect for "Spider-Man: No Way Home" as it is hyped as the biggest Spider-Man film ever. Perhaps the run time might be even longer due to the complicated plot of the film.
Marvel and Sony have not yet confirmed nor denied the supposed runtime.
Stay tuned for more details regarding "Spider-Man: No Way Home"!
© 2023 Korea Portal, All rights reserved. Do not reproduce without permission.
Tags:
US
,
US news
,
US updates
,
US Entertainment
,
Marvel
,
Marvel News
,
Marvel updates
,
Marvel Cinematic Universe
,
Marvel Cinematic Universe news
,
Marvel Cinematic Universe updates
,
Sony
,
Sony news
,
Sony updates
,
Sony Pictures
,
Sony Pictures news
,
Sony Pictures updates
,
Spider-Man
,
Spider-Man news
,
Spider-Man updates
,
Spider-Man: No Way Home
,
Spider-Man: No Way Home news
,
Spider-Man: No Way Home updates
,
Disney
,
Disney news
,
disney updates