Giselle Of aespa Once Again Makes Headlines As She Makes Netizens Smile & Laugh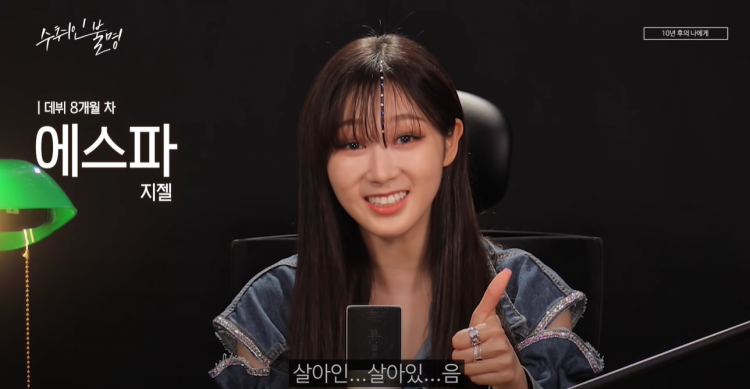 The members of SM Entertainment's rookie K-pop girl group, aespa, are a melody of amazing talent, visuals, and personality wrapped into one. Recently, a member of aespa made netizens smile and laugh.
Giselle, aespa's half-Japanese and half-Korean main rapper is known for her class, amazing skills in English, and the fire she spits when she raps. Who would have thought that aespa's most 'serious' member would be extremely hilarious and spontaneous?
Fiery and talented when spitting bars, classy and sophisticated in a photoshoot, but goofy and hilarious in a video, aespa's Giselle is a hidden gem in the K-pop industry and this was once again proven in a hilarious incident.
Just recently on the 2nd of July, aespa's Giselle, among other K-pop stars, were asked by KBS Entertainment to give a message to their future selves 10 years from now. Other K-pop stars gave themselves a very deep and meaningful message.
SM Entertainment's aespa was also a part of the video. Thus, aespa's Karina, Winter, and Ningning gave messages of encouragement to their future selves which were all so heartfelt and from the heart. Giselle's message was simply too adorable and hilarious.
Notably, aespa's Giselle revealed her funny and quick thinking side when the K-pop idol's yearbook quote became viral. Giselle's quote is: "That's hot"!
While the other members of aespa gave really internal and deep answers, aespa's Giselle went her own way, making sure her future self was still alive, well, and kicking!
"10 years after....Are you alive? Alive...then, great job! Good. Good," aespa's Giselle told herself.
Giselle is really a very unique K-pop star as being adorable and funny seems to come naturally for her. She perfectly balances out the other member's personalities.
Similarly, Karina is extremely tough but has a soft side, Winter is somewhat introverted but really fierce, and NingNing is such a softy yet has the confidence to seduce herself.
Netizens and MYs, the fandom name of aespa, are truly excited to see more of SM Entertainment's aespa.
© 2023 Korea Portal, All rights reserved. Do not reproduce without permission.
Tags:
KBS
,
KBS news
,
KBS updates
,
aespa KBS
,
KBS aespa
,
KBS Entertain
,
KBS Entertain news
,
KBS Entertain updates
,
KBS Entertain YouTube
,
KBS YouTube
,
Hello Future!! K-아이돌이 10년 후의 나에게 해주고픈 이야기(feat.마마무
,
조이
,
오마이걸
,
몬엑
,
트와이스
,
NCT
,
TXT
,
에스파)
,
KBS Hello Future
,
Hello Future
,
aespa Hello Future
,
Hello Future aespa
,
kwave
,
kwave news
,
kwave updates
,
Kpop
,
kpop news
,
Kpop updates
,
SM
,
SM artists
,
SM Entertainment
,
SM Entertainment news
,
SM Entertainment updates
,
SM Entertainment aespa
,
SM Entertainment aespa news
,
SM Entertainment aespa updates
,
SM Entertainment artists
,
aespa
,
aespa news
,
aespa updates
,
aespa Karina
,
aespa Winter
,
aespa NingNing
,
aespa Giselle
,
karina
,
winter
,
Ningning
,
Giselle
,
Giselle news
,
Giselle updates
,
aespa Giselle news
,
aespa Giselle updates