Netizens In Awe After Seeing How aespa's Karina Handled A Mishap In Recent Performance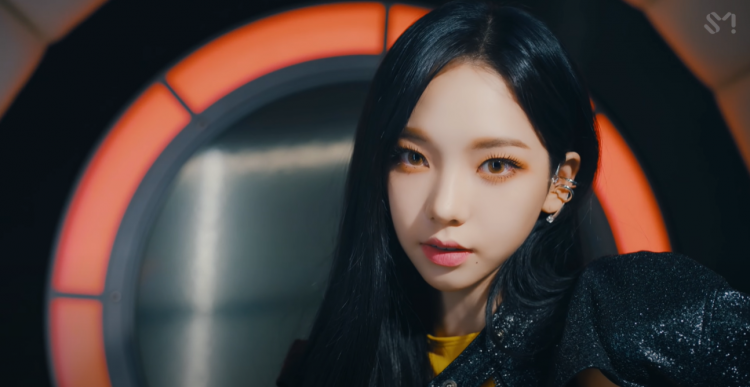 Even to some veteran K-pop idols, there will always be times where a simple mistake or slip-up is hard to act on. Some reveal their frustrations through their facial expressions while others verbally blurt them out.
But in a recent performance, who would have thought that a rookie K-pop group would hold so much professionalism this early on in their careers?
SM Entertainment's aespa made their debut only last year but their leader, Karina, already wowed netizens by being able to handle a simple mishap so eloquently and with such class.
In a special performance of their latest hit single, "Next Level," on "Music Bank," the members of SM Entertainment's aespa rocked cat ear headbands. This was the group's style for the performance.
But although cute, the cat ears seemed to be problematic for aespa's Karina as a part in the choreography for "Next Level" had her headband snag onto one of her sleeves.
Notably, Karina initially had a hard time separating her sleeves from her cat ears, but after a while, she was able to break free, smiling and confident after her little mishap. Aside from her quick recovery, netizens were amazed at how she immediately went back to 'performance mode'.
Right after she corrected the mishap, Karina swiftly changed her expression; being back to being fierce in a heartbeat. Thus, netizens were in awe of how professional the aespa member handled the issue.
Following this, aespa's Karina made everyone know that she was aware of the incident and she quickly went on social media.
"No but because I was wearing a cat ear headband, I told myself to be careful and not hit the headband, but then I directly hit the cat ear with my arm. Do you know how shocked I was..? It won't appear on the broadcast, right? Please. Because I'm embarrassed. Will you love me even though I'm like this?," aespa's Karina adorably shared.
Who would have thought SM Entertainment's rookie K-pop girl group would handle mishaps very professionally.
© 2023 Korea Portal, All rights reserved. Do not reproduce without permission.
Tags:
kwave
,
kwave news
,
kwave updates
,
Kpop
,
kpop news
,
Kpop updates
,
Music Bank
,
Music Bank aespa
,
aespa Music Bank
,
SM
,
SM artists
,
SM Entertainment
,
SM Entertainment news
,
SM Entertainment update
,
SM Entertainment updates
,
SM Entertainment aespa
,
SM Entertainment aespa news
,
SM Entertainment aespa updates
,
aespa
,
aespa news
,
aespa updates
,
aespa Next Level
,
aespa Karina
,
Next Level
,
aespa Karina news
,
aespa Karina updates
,
karina
,
Karina news
,
Karina updates
,
Karina Next Level
,
Next Level Karina