Will aespa Have Their Own Hollywood Movie? Lee Soo Man Talks About Their Future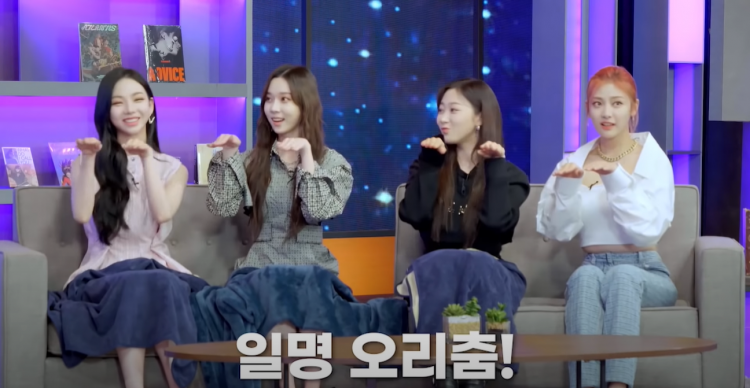 As of writing this article, yesterday on the 29th of June, the "SM Congress 2021" of SM Entertainment occurred, and in the congress, headed by founder Lee Soo Man, announcements regarding the coming plans of SMTOWN were discussed.
Among the SM stars, of course, SM Entertainment's rookie girl group, aespa, started off the congress. Beginning aespa's segment, Lee Soo Man praised the members of aespa for the immense success of their debut song "Black Mamba," and "Next Level," aespa's latest release.
With the praise, aespa's leader, Karina noted, "I was very thankful that many people covered our addicting dance moves while we were promoting our song 'Next Level.' We were even nominated for first place with 'Next Level,' and I could not believe it."
After this, the SM Culture Universe (also known as the SMCU) video, the cinematic universe of aespa that was uploaded last month, became the next talking point. As of writing this article, only the "Black Mamba" episode has been released.
"We're creating a new universe called the SMCU and aespa are the first ones to enter this world. We will depict this world through a new genre called CAWMAN, which I came up with," Lee Soo Man explained while breaching the topic.
When fans watch the video, fans will see animations and motion graphics and aespa will be starting this new culture for the first time by creating episodes with the CAWMAN genre. Lee Soo Man noted.
But beyond the regular uploads, Lee Soo Man hinted that there might be a possible Hollywood film on the horizon for the SMCU.
aespa and ae-aespa (the AI Counterpart of aespa) will go on an adventure to Kwangya. Karina said she is sure a lot of people are curious if aespa will fight the Black Mamba. Thus, this year, aespa is preparing a lot of diverse content to continue the story of the first season. Karina explained, promoting their upcoming project.
Notably, Lee Soo Man's CAWMAN stands for Cartoon, Animation, Webtoon, Motion graphics, Avatar, and Novel. This will be SM Entertainment's pillar for the SMCU. But although SME is gearing up for the SMCU, music will still play a huge role as always.
Are you excited for more aespa content?
© 2023 Korea Portal, All rights reserved. Do not reproduce without permission.
Tags:
kwave
,
kwave news
,
kwave updates
,
Kpop
,
kpop news
,
Kpop updates
,
SM
,
SM artists
,
SM Entertainment
,
SM Entertainment news
,
SM Entertainment updates
,
Lee Soo Man
,
Lee Soo Man news
,
Lee Soo Man updates
,
SM Entertainment Lee Soo Man
,
Lee Soo Man SM Entertainment
,
SM Congress 2021
,
SM Congress 2021 aespa
,
aespa SM Congress 2021
,
SM Entertainment SM Congress 2021
,
SM Congress 2021 SM Entertainment
,
SMTOWN
,
SMTOWN news
,
SMTOWN updates
,
SM Entertainment aespa
,
SM Entertainment aespa news
,
SM Entertainment aespa updates
,
aespa
,
aespa news
,
aespa updates
,
aespa black mamba
,
aespa Next Level
,
aespa black mamba
,
black mamba
,
Next Level
,
SM Culture Universe
,
SMCU
,
CAWMAN
,
SM Entertainment CAWMAN