Their Love For MooMoos, Their Journey Together, Plans, & More, MAMAMOO Shares Significance Of 'WAW'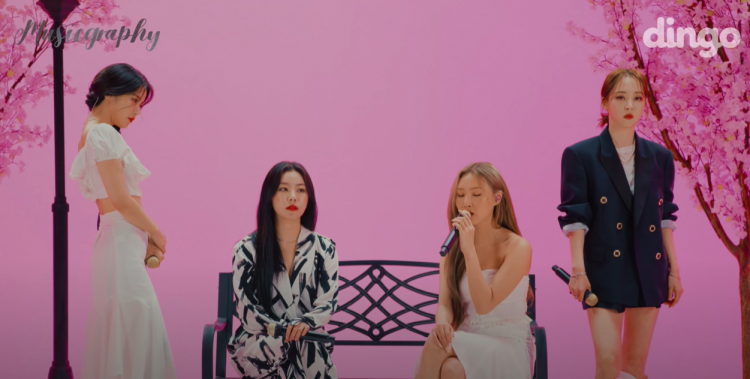 In a recent Q&A interview with Naver, RBW's MAMAMOO went on to open on how they felt about their most recent comeback. The girls shared that it was a moment for MAMAMOO to look back on the past seven years of being together.
Referring to their album, "WAW," the members of MAMAMOO notably shared that they actually placed a lot of ballads as b-side songs on their previous albums, but this is the first time that all their songs have been ballads in their album, even the title song.
MAMAMOO is currently looking forward to expressing an even more mature image for the group. But they still want to express their natural melody and chemistry which has been there since the beginning.
"Where Are We Now" is notably MAMAMOO's title track for their mini-album and it revolves around people who are on a journey together and ask each other; "Where are we now?"
MAMAMOO's title track talks about the past, the present, and the future and the members shared that it's not just about them, but also about everyone who can relate.
"There's a line in the song that goes, 'One day in a long journey.' I think that right now we are in one day of that long journey called life. We're grateful that we can be on this journey together with the members and with our fans, MooMoos," MAMAMOO answered when asked on where they are now at this point in their careers.
MAMAMOO added that in the time they have spent on the journey as MAMAMOO, they have experienced a lot of things that they would not have been able to do individually.
Notably, MAMAMOO's "WAW" is the beginning of their "2021 Where Are We" project. The project also includes a summer concert and a documentary, something that MooMoo's will surely enjoy.
On an even happier note, MAMAMOO shares about their immediate plans in the future.
"We prepared for the documentary and the concert at the same time as our album. The documentary is always in production, so you will be able to see it soon. The concert will take place when the situation is more stable for everyone, so we are preparing a lot of different things. The goal is for this summer, so please look forward to it," MAMAMOO shared.
© 2022 Korea Portal, All rights reserved. Do not reproduce without permission.
Tags:
RBW
,
RBW news
,
RBW updates
,
RBW artists
,
RBW Entertainment
,
RBW Entertainment news
,
RBW Entertainment updates
,
RBW Entertainment artists
,
RBW Entertainment MAMAMOO
,
RBW MAMAMOO
,
RBW Entertainment MAMAMOO news
,
RBW Entertainment MAMAMOO updates
,
RBW MAMAMOO news
,
RBW MAMAMOO updates
,
RBW Entertainment MAMAMOO comeback
,
RBW MAMAMOO comeback
,
Mamamoo
,
Naver
,
Naver interview
,
MAMAMOO Naver
,
MAMAMOO News
,
MAMAMOO Updates
,
MAMAMOO WAW
,
MAMAMOO comeback
,
MAMAMOO new song
,
' MAMAMOO new album
,
MAMAMOO latest song
,
MAMAMOO latest album
,
MAMAMOO recent comeback
,
MAMAMOO WAW album
,
WAW
,
MAMAMOO Where Are We Now
,
Where Are We Now