Solar, MAMAMOO's Leader, Recently Amazed & Worried Fans In Her Recent YouTube Video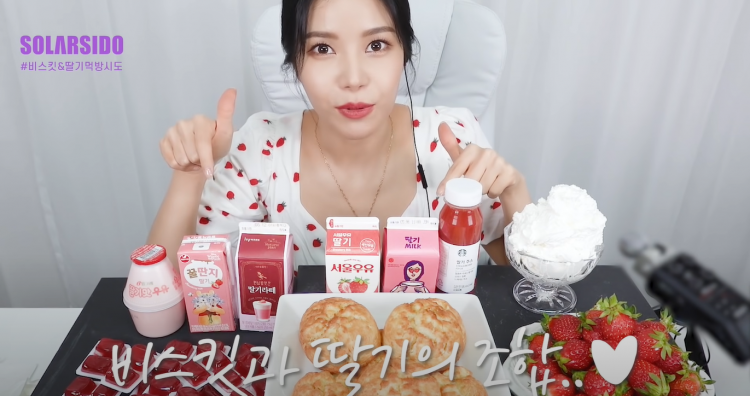 In the K-pop industry, it is only natural for K-pop idols to have a specific diet. Some K-pop idols prefer to eat more meat for protein, other K-pop idols decidedly remove carbs from their diet, and some K-pop idols focus on eating healthy greens.
But what if your favorite K-pop idol eats a specific and weird type of green food?
Previously on Thursday, on the 20th of May, the leader of RBW's MAMAMOO, Solar, went on to upload a video on her personal YouTube channel, "solarsido." Solar's video was entitled "Solar Eats | KFC scone, biscuit, whipped cream, strawberry milk, latte, strawberry jam Mukbang."
In MAMAMOO's Solar's video, she eats multiple strawberry-themed foods. Moreover, she was seen to dip KFC biscuits into whipped cream and began eating strawberries as well. Like most might think, there seems to be no issues as the K-pop idol does deserve to splurge at times.
However, in the 8 minute and 39 second video, Moomoos and personal fans of Solar saw that the K-pop idol would eat whole strawberries. This includes the green leaves on top of the fruit.
Notably, MAMAMOO's Solar went on to get a handful of strawberries and began feasting on them without any care.
To their surprise as well, the camera-person went on to ask MAMAMOO's Solar, "Why did you not take the green top off of the strawberry?"
Amused, MAMAMOO's Solar released an adorable chuckle, replying that she found it more accessible to eat with the green part rather than taking time to remove the leaves.
Regularly, aside from being surprised, a lot of MAMAMOO's Solar's fans went to question if what the K-pop idol did was fine to consume.
Fortunately, strawberry leaves are edible and are quite healthy. Which means MAMAMOO's Solar was actually on to something. Due to this, keep eating strawberries like a queen, Solar-unnie!
© 2022 Korea Portal, All rights reserved. Do not reproduce without permission.
Tags:
solarsido
,
솔라시도 solarsido
,
kwave
,
kwave news
,
kwave updates
,
Kpop
,
kpop news
,
Kpop updates
,
RBW
,
RBW artists
,
RBW Entertainment
,
RBW Entertainment news
,
RBW Entertainment updates
,
RBW Entertainment MAMAMOO
,
Mamamoo
,
MAMAMOO News
,
MAMAMOO Updates
,
mamamoo solar
,
MAMAMOO Solar news
,
MAMAMOO Solar updates
,
solar
,
Solar news
,
Solar updates
,
MAMAMOO Solar YouTube
,
MAMAMOO Solar 솔라시도 solarsido
,
MAMAMOO Solar solarsido
,
Kpop YouTube
,
YouTube
,
KFC
,
mukbang
,
kpop mukbang
,
strawberry