ITZY's Yeji, Red Velvet's Seulgi, MAMAMOO's Moonbyul, & Many More, Best Female K-Pop Dancers For May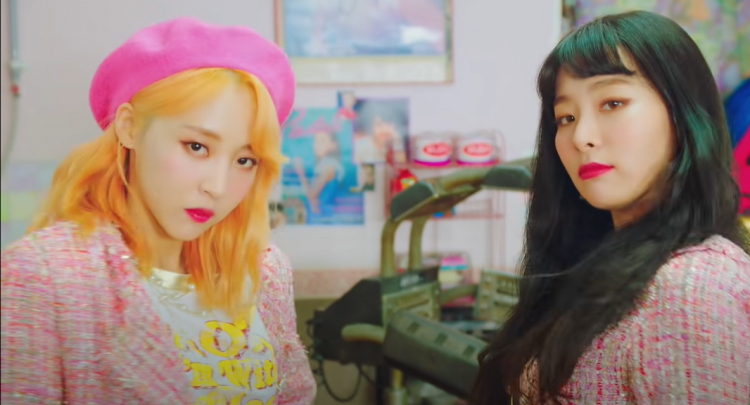 Being able to dance in the K-pop industry is a must. But only a handful of K-pop idols actually have the ability to dance really well. In a recent voting done by a popular polling website, netizens and fans select the top 25 female K-pop dancers.
One of the biggest international K-pop voting websites, KingChoice, recently dropped another anticipated poll which lasted the whole month of May.
For the month of May, KingChoice had the top 25 best male and female dancers in the K-Pop industry and in this article, we will be talking about the females.
Over 2 million votes were tallied, and with that, here are the top picks of netizens for the best female K-pop dancers for the month of May:
#1 Lisa of BLACKPINK with 778,993 total points
#2 Soojin of (G)I-DLE with 587,913 total points
#3 Momo of TWICE with 152,253 total points
#4 SuA of Dreamcatcher with 86,396 total points
#5 Seungyeon of CLC with 78,359 total points
#6 Nancy of MOMOLAND with 45,395 total points
#7 Yeji of ITZY with 35,802 total points
#8 Jennie of BLACKPINK with 37,079 total points
#9 Dita of Secret Number with 32,821 total points
#10 Bomi of Apink with 24,014 total points
#11 Chanmi of AOA with 19,654 total points
#12 E:U of EVERGLOW with 17,320 total points
#13 Seulgi of Red Velvet with 10,885 total points
#14 Chaeyeon, formerly of IZ*ONE, with 9,963 total points
#15 SinB, formerly of GFRIEND, with 7,456 total points
#16 Chungha with 5,857 total points
#17 Moonbyul of MAMAMOO with 4,368 total points
#18 JooE of MOMOLAND with 4,154 total points
#19 Mia of EVERGLOW with 3,750 total points
#20 Karina of aespa with 2,055 total points
#21 Somi with 1,892 total points
#22 YooA of OH MY GIRL with 908 total points
#23 Hwasa of MAMAMOO with 905 total points
#24 Sunmi with 411 total points
#25 Cheng Xiao of Cosmic Girls with 392 total points
Congratulations to all the female K-pop idols who were voted in by netizens and fans as the best dancers for the month of May!
© 2022 Korea Portal, All rights reserved. Do not reproduce without permission.
Tags:
KingChoice
,
KingChoice news
,
KingChoice updates
,
KingChoice polls
,
kpop polls
,
best female kpop dancer
,
best kpop dancer
,
kwave
,
kwave news
,
kwave updates
,
Kpop
,
kpop news
,
Kpop updates
,
Kpop
,
BLACKPINK
,
blackpink lisa
,
Lisa
,
(G)I-DLE
,
(G)I-DLE Soojin
,
Soojin
,
TWICE
,
TWICE Momo
,
Momo
,
dreamcatcher
,
dreamcatcher sua
,
sua
,
CLC
,
CLC Seungyeon
,
Seungyeon
,
Momoland
,
momoland nancy
,
Nancy
,
ITZY
,
ITZY Yeji
,
yeji
,
blackpink jennie
,
Jennie
,
Secret Number
,
Secret Number Dita
,
Dita
,
Apink
,
Apink Bomi
,
Bomi
,
AOA Chanmi
,
AOA
,
Chanmi
,
EVERGLOW
,
EVERGLOW E:U
,
E:U
,
Red Velvet
,
red velvet seulgi
,
Seulgi
,
IZ*ONE
,
IZ*ONE Chaeyeon
,
Chaeyeon
,
GFriend
,
Gfriend sinb
,
SinB
,
Chungha
,
Mamamoo
,
MAMAMOO Moonbyul
,
Moonbyul
,
MOMOLAND JooE
,
JooE
,
EVERGLOW mia
,
Mia
,
aespa
,
aespa Karina
,
karina
,
Somi
,
Oh My Girl
,
Oh My Girl YooA
,
YooA
,
MAMAMOO Hwasa
,
Hwasa
,
Sunmi
,
Cosmic Girls
,
Cosmic Girls Cheng Xiao
,
Cheng Xiao
,
WJSN
,
WJSN Cheng Xiao