Netizens React To LE SSERAFIM Chaewon's Adorable Mistake On A Livestream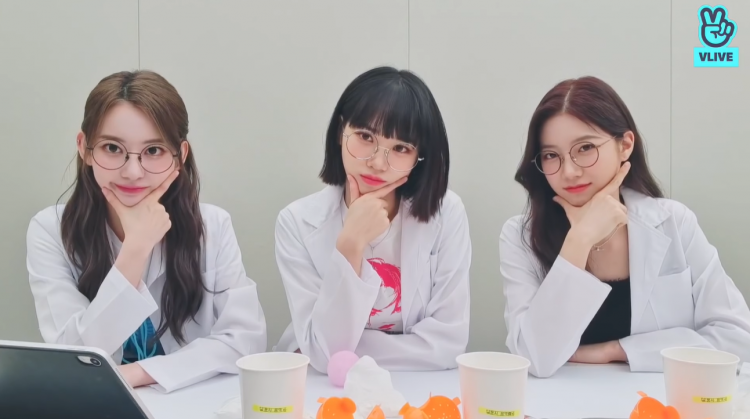 Old habits are hard to correct when one has started a new chapter in their life. Naturally, this happens to the best of us. Even to seasoned K-Pop idols.
READ: Netizens Demand Kim Garam To Be Removed From LE SSERAFIM, #GaramOut Goes Viral
On the 27th of May, LE SSERAFIM's Sakura, Kazuha, and Chaewon hosted a live stream. The K-Pop idols did this on Naver's V Live to interact and have an overall good time with their fans.
When LE SSERAFIM began their live stream, Sakura saw comments from their Japanese fans. Seeing this, the idol responded "thank you" in Japanese. Chaewon, who also noticed their Japanese fans, also tried to speak in Japanese.
Adorably though, instead of greeting fans as LE SSERAFIM, Chaewon introduced them as her former group. The leader added, "Konnichiwa, IZ*ONE desu," which means "Hello, we are IZ*ONE."
READ: 5-Member Lineup Of LE SSERAFIM Garners Endless Praise From Netizens For Their 'FEARLESS' Performances
Hilariously, both Chaewon and Sakura immediately noticed this. Notably, the two are former members of IZ*ONE, being in the group for almost two years.
Netizens then found Chaewon's next actions immensely cute. The LE SSERAFIM leader clenched her teeth and bit her lip when she realized her mistake. To correct what she said, Chaewon continued, "LE SSERAFIM desu," which means "We are LE SSERAFIM."
Adding to the fun atmosphere, as Sakura heard the mistake, the Japanese idol then almost immediately changed the topic.
Professionally, LE SSERAFIM's Sakura, Chaewon, and Kazuha then continued the live broadcast. In V Live, the idol played the new "balance game" and did the "gyaru peace" sign.
READ: Industry Scandal: Police Investigates LE SSERAFIM's Win Over Lim Young Woong On 'Music Bank'
Beyond everything, netizens and fans did not mind Chaewon's simple mistake. They even left positive comments for the LE SSERAFIM member.
© 2023 Korea Portal, All rights reserved. Do not reproduce without permission.
Tags:
kwave
,
kwave news
,
kwave updates
,
Kpop
,
kpop news
,
Kpop updates
,
HYBE
,
HYBE artists
,
HYBE LE SSERAFIM
,
HYBE Labels
,
HYBE Labels artists
,
HYBE Labels LE SSERAFIM
,
LE SSERAFIM
,
LE SSERAFIM news
,
LE SSERAFIM updates
,
LE SSERAFIM Chaewon
,
LE SSERAFIM Chaewon news
,
LE SSERAFIM Chaewon updates
,
LE SSERAFIM Kim Chaewon
,
LE SSERAFIM Kim Chaewon news
,
LE SSERAFIM Kim Chaewon updates
,
Source Music
,
Source Music news
,
Source Music Updates
,
Naver
,
naver news
,
naver updates
,
Naver V Live
,
V Live
,
V Live news
,
V Live updates
,
LE SSERAFIM V Live
,
Kim Chaewon
,
Kim Chaewon news
,
Kim Chaewon updates
,
Chaewon
,
Chaewon news
,
Chaewon updates
,
IZ*ONE
,
IZ*ONE news
,
IZ*ONE updates