Netizens Demand Kim Garam To Be Removed From LE SSERAFIM, #GaramOut Goes Viral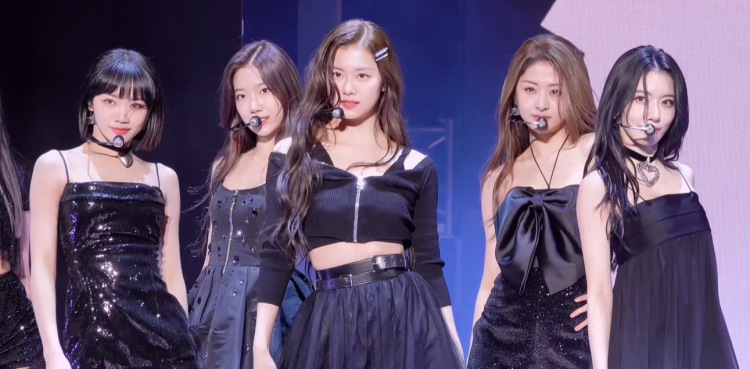 Not long after LE SSERAFIM debuted, Kim Garam went on hiatus. The K-Pop star is currently facing a school violence scandal. This all began when Garam's ex-classmates came forward with the allegations.
READ: LE SSERAFIM Minus One: Source Music & HYBE Announces Kim Garam's Hiatus & More
Since then, netizens have been showing their distaste towards the LE SSERAFIM member. The girl group's label, HYBE, has shown no interest in removing Kim Garam from LE SSERAFIM. Furthermore, the label is supposedly meeting with Daeryun Law, the representative legal firm for alleged victim Yoo Eunseo. The reason for this was to converse about a private settlement.
READ: HYBE Allegedly Negotiating With The Lawyers Of Victims & Plans On Keeping Kim Garam In LE SSERAFIM's Lineup
"As they continue to repeat their attitude of not accepting and applying the fans' criticisms, the distrust toward HYBE grows worse. Recently, as fandoms are sensitive to school violence, sexual assault, and sexism, they should be careful but it'll be hard for HYBE to come up with a better plan than their current actions," Industry Insiders shared.
Thus, netizens believe that HYBE is trying to protect Kim Garam. Due to this, fans are showcasing their anger and frustration on social media.
Notably, the hashtag #garamOUT and other related words have trended on social media, particularly Twitter. Netizens and fans of LE SSERAFIM fans are demanding Kim Garam's immediate removal from the girl group.
Adding to this, K-Pop fans, more notably ARMYs and BLINKs, have been speaking out on the subject. It is believed that the dating rumors between BTS' V and BLACKPINK's Jennie are but a distraction for Kim Garam's issue.
READ: New Couple Or Possible Cover-Up? BTS' V & BLACKPINK's Jennie Supposedly Spotted Together, YG Responds
As of writing this article, HYBE has not yet recently addressed Kim Garam's school violence issue or BTS V and BLACKPINK Jennie's dating rumors.
Stay tuned for more news and updates on LE SSERAFIM and other K-Pop artists!
© 2023 Korea Portal, All rights reserved. Do not reproduce without permission.
Tags:
kwave
,
kwave news
,
kwave updates
,
Kpop
,
kpop news
,
Kpop updates
,
HYBE
,
HYBE artists
,
HYBE LE SSERAFIM
,
HYBE Labels
,
HYBE Labels artists
,
HYBE Labels news
,
HYBE Labels updates
,
HYBE Labels LE SSERAFIM
,
Source Music
,
Source Music artists
,
Source Music news
,
Source Music Updates
,
Source Music LE SSERAFIM
,
Source Music Kim Garam
,
Source Music LE SSERAFIM Kim Garam
,
LE SSERAFIM
,
LE SSERAFIM news
,
LE SSERAFIM updates
,
LE SSERAFIM Kim Garam
,
LE SSERAFIM Kim Garam news
,
LE SSERAFIM Kim Garam updates
,
LE SSERAFIM Garam
,
LE SSERAFIM Garam news
,
LE SSERAFIM Garam updates
,
Kim Garam
,
Kim Garam news
,
Kim Garam updates
,
Garam
,
Garam news
,
Garam updates