Industry Scandal: Police Investigates LE SSERAFIM's Win Over Lim Young Woong On 'Music Bank'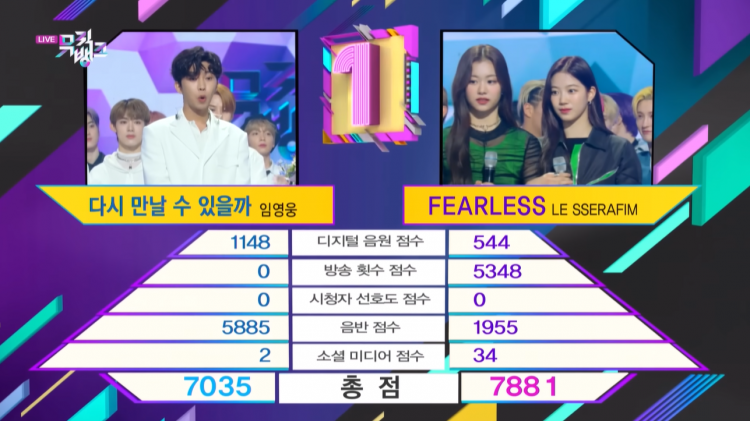 May started off rocky for KBS' "Music Bank." This is due to the music show's involvement in a scandal regarding the broadcast score they gave to Lim Young Woong against LE SSERAFIM.
READ: IU Joins PSY, BTS, & Lim Young Woong As The Top Singers Of May, See Full Rankings
During the 13th of May episode of "Music Bank," Lim Young Woong's "If We Ever Meet Again" and LE SSERAFIM's "FEARLESS" were going head to head for first place. The trot singer's song was ahead in terms of digital performance and album sales.
Yet the rookie group managed to overcome Lim Young Woong. This is due to their broadcast scores where LE SSERAFIM collected 5,348 points, while Lim Young Woong surprisingly got 0 points.
KBS' "Music Bank" rankings are based on 60% digital scores, 20% broadcast scores, 10% viewer panel surveys, 5% social media scores, and 5% physical album sales. Due to this, fans of the trot singer were stunned how a song that was on top digital points only took 2nd place.
Due to this, Lim Young Woong's asked for an explanation from KBS. On May 18, KBS dropped a statement on the issue. There, they explained that Lim Young Woong's "If We Ever Meet Again" got a 0 broadcast score as it was not played on any KBS TV media. This was during the track week of the 2nd to the 8th of May.
READ: This Month's Brightest: The Top Korean Stars For The Month Of May
But the issue has not ended there. Dispatch released a report that revealed that KBS' statement was wrong. Dispatch saw that "If We Ever Meet Again" was actually played on KBS radio stations multiple times from May 2 to 8.
Furthermore, Lim Young Woon's "If We Ever Meet Again" was played on the 4th of May. This was during the KBS radio programs "With Kim Hye Young" and "Seol Bam with Park So Hyun." Adding to this was the 7th of May during "Lim Baek Chun's 100 Music."
KBS then replied to Dispatch's report announcing, "The radio broadcast score is calculated using only seven KBS Cool FM radio programs. Aside from these seven shows, other [KBS radio] programs do not factor into our scores."
But this did not stop fans from believing it was rigged. Evidently, a netizen ultimately filed a complaint with South Korea's Anti-Corruption and Civil Rights Commission. This was due to the fact that KBS' "Music Bank" supposedly manipulated the broadcast score of Lim Young Woong.
On the 29th of May, it was reported that the Yeongdeungpo Police Station in Seoul had gotten the complaint. Due to this, they began investigations on the issue.
READ: Netizens Demand Kim Garam To Be Removed From LE SSERAFIM, #GaramOut Goes Viral
"As the accusations have not yet been confirmed, we currently plan to investigate by speaking to the complainants and more. If the allegations of manipulation are found to be true, we will switch to a full-scale investigation," the police reported.
© 2023 Korea Portal, All rights reserved. Do not reproduce without permission.
Tags:
kwave
,
kwave news
,
kwave updates
,
Kpop
,
kpop news
,
Kpop updates
,
KBS
,
KBS news
,
KBS updates
,
KBS Music Bank
,
KBS Music Bank news
,
KBS Music Bank updates
,
Music Bank
,
music bank news
,
Music Bank updates
,
Lim young Woong
,
Lim Young Woong news
,
Lim Young Woong updates
,
Lim Young Woong If We Ever Meet Again
,
If We Ever Meet Again
,
If We Ever Meet Again news
,
If We Ever Meet Again updates
,
LE SSERAFIM
,
LE SSERAFIM news
,
LE SSERAFIM updates
,
LE SSERAFIM FEARLESS
,
Fearless
,
FEARLESS news
,
FEARLESS updates
,
LE SSERAFIM and Lim Young Woong
,
Lim Young Woong and LE SSERAFIM