SpaceX Successfully Escorted First All-private Crew To ISS Space Station For Axiom Space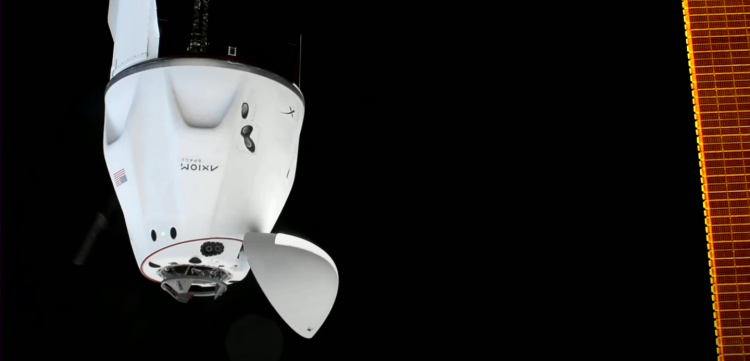 SpaceX successfully launched a fresh crew of four astronauts to orbit on the company's Crew Dragon spacecraft last Friday morning. The four private flyers launched from Cape Canaveral, Florida, on SpaceX's Falcon 9 rocket and rode to space through a commercial aerospace company called Axiom Space.
The entirely private crew of astronauts docked yesterday and are the first to visit and live in the orbiting lab. The crew is expected to spend roughly eight days on the ISS. They'll be conducting a total of 25 science experiments lasting a cumulative 100 hours.
READ: Tesla Levelling Up: Elon Musk Announces Plans On Up-Scaling Tesla Vehicles!
Ax-1 is the first in a series of four missions that Axiom plans to conduct in partnership with SpaceX. Axiom's long-term goal is to build a fleet of commercial space stations, beginning with Axiom Station. The missions are meant to help Axiom establish all of its protocols and procedures for conducting human spaceflight missions to its own platform when it's ready.
The passengers of the flight include: their commander Michael López-Alegría, a veteran NASA astronaut and now chief astronaut for Axiom; Israeli businessman Eytan Stibbe; Canadian investor Mark Pathy; and Ohio-based real estate magnate Larry Connor. Axiom previously disclosed a price of $55 million per seat for a 10-day trip to the ISS.
READ: Elon Musk Buys 9.2% Stake In Twitter, Becoming Its Largest Shareholder!
After reaching the ISS, the passengers joined seven professional astronauts already on board the space station - including three NASA astronauts, a German astronaut, and three Russian cosmonauts.
When they return, SpaceX will launch yet another crew to the ISS on April 21st which will send three agency astronauts and a European partner astronaut to the ISS for a six-month stay. The aerospace company will then bring home another set of astronauts, part of the Crew-3 mission, who have been on the ISS since November 2021.
© 2023 Korea Portal, All rights reserved. Do not reproduce without permission.
Tags:
US
,
US news
,
US updates
,
U.S.
,
U.S. news
,
U.S. updates
,
spacex
,
SpaceX news
,
SpaceX updates
,
SpaceX Dragon
,
SpaceX Dragon news
,
SpaceX Dragon updates
,
Dragon
,
Dragon news
,
Dragon updates
,
ISS
,
ISS news
,
ISS updates
,
International Space Station
,
International Space Station news
,
International Space Station updates