Elon Musk Buys 9.2% Stake In Twitter, Becoming Its Largest Shareholder!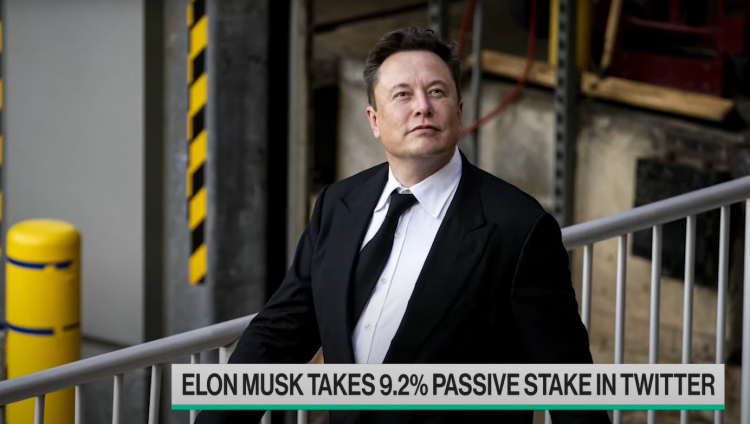 Tesla CEO Elon Musk purchased a giant stake in Twitter making him the largest outside shareholder in the social media stock a week after starting an online discussion on the company's failure to uphold free speech across its social media platform.

READ: Elon Musk To Create A New Social Media Platform? Billionaire Seriously Considers New Project!
As of today, Musk owns about 73.5 million shares of Twitter, which represents a 9.2% passive stake in the company, which was disclosed in a Securities and Exchange Commission filing released Monday. The stake is worth $2.89 billion, based on Twitter's closing price.
The purchase comes less than two weeks after Musk tweeted about the company. In a Twitter poll, he asked users whether the social media platform adheres to the principles of free speech. "Given that Twitter serves as the de facto public town square, failing to adhere to free speech principles fundamentally undermines democracy," Musk posed. "What should be done?"
Afterward, the CEO even began bringing up the idea of possibly building a new social media platform himself.
Whenever an investor buys 5% or more of a company's shares, the purchase must be disclosed in filings with the Securities and Exchange Commission. Despite Musk's stake classifying as passive for being less than 10%, Twitter's stock surged by more than 27%, and it could hint at an effort from Musk to take a more active role in how Twitter is run moving forward.
"Musk could try to take a more aggressive stance here on Twitter," said Wedbush analyst Dan Ives on CNBC's "Squawk Box." "This eventually could lead to some sort of buyout."
"This makes sense given what Musk has at least been talking about, at least from a social media perspective," Ives added.

READ: Tesla Levelling Up: Elon Musk Announces Plans On Up-Scaling Tesla Vehicles!
Musk has more than 80 million followers on Twitter and actively uses the platform as another means of disseminating news about both his companies Tesla (TSLA) and SpaceX.
© 2022 Korea Portal, All rights reserved. Do not reproduce without permission.