BUDDYs Emotional As VIVIZ's SinB Talks About GFRIEND's Abrupt Disbandment & More!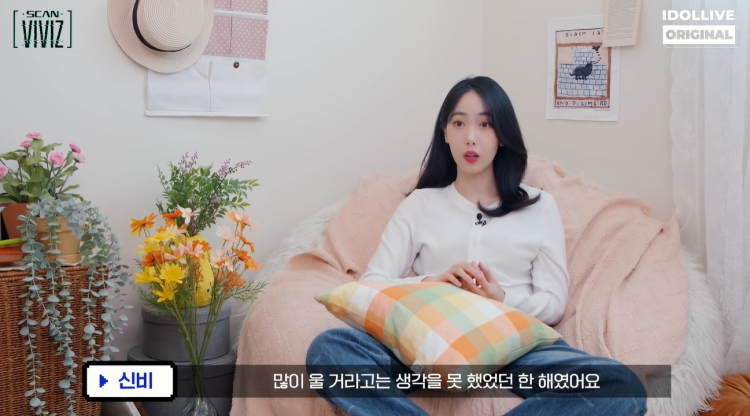 Just recently, VIVIZ's SinB was featured in an interview on "IDOL LIVE." In the interview, the K-pop artist surprised fans when she revealed that she was suffering through a slump that started in 2019.
READ: Former GFRIEND Members SinB, Eunha, & Umji Debuting This February As The K-Pop Trio VIVIZ!
VIVIZ's SinB explained that since GFRIEND's "Fever," she began hating watching herself performing on stage. The K-pop idol used to look for her fancam, but she eventually stopped watching because she did not like it.
Talking about the past, VIVIZ's SinB shared her regrets and added the reason why she felt motivated at present.
"Because of the slump, I ended our last activities without motivation. When I think about it now, I think that's why I'm more motivated now. I'm the type to let it go as soon as I get a slump, but it lasts quite a long time," SinB explained.
The VIVIZ member then talked about how she felt on finding out about GFriend's disbandment.
"We're not renewing our girlfriend's contract anymore, but can't talk about this first, right? So actually, when we see the members doing V LIVE, we cry on V LIVE, and when we see the cheering video of the fans, we cry even more," the former GFRIEND member explained.
Since GFRIEND's disbandment, SinB shared that she would cry during the official announcement, but after it all sinked in, the K-pop idol could not hold back tears.
After the disbandment of GFRIEND, SinB then re-debuted as a member of VIVIZ alongside Eunha and Umji. Though SinB is happy now, she melted the hearts of fans when she proclaimed her love for GFRIEND.
"I think GFriend will meet again someday, whether they release an album again or reunite. We only need one Sowon unnie as a leader," explaining why VIVIZ doesn't have a leader.
© 2023 Korea Portal, All rights reserved. Do not reproduce without permission.
Tags:
kwave
,
kwave news
,
kwave updates
,
Kpop
,
kpop news
,
Kpop updates
,
BPM Entertainment
,
BPM Entertainment artists
,
BPM Entertainment news
,
BPM Entertainment updates
,
BPM Entertainment VIVIZ
,
BPM Entertainment SinB
,
BPM Entertainment VIVIZ SinB
,
GFriend
,
GFriend news
,
GFRIEND updates
,
GFRIEND Disband
,
GFRIEND disbanded
,
GFRIEND disbandment
,
Gfriend sinb
,
GFRIEND SinB news
,
GFRIEND SinB updates
,
SinB
,
SinB news
,
SinB updates
,
IDOL LIVE
,
IDOL LIVE news
,
IDOL LIVE updates
,
SinB IDOL LIVE
,
IDOL LIVE SinB