Song Kang And Park Min Young's Upcoming K-Drama 'Forecasting Love and Weather' Is Set To Air In February!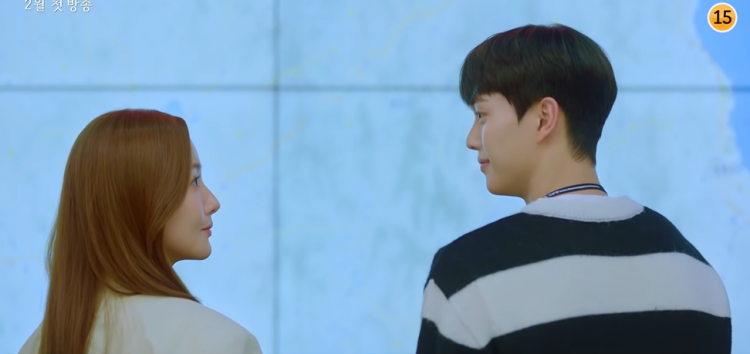 JTBC's "Forecasting Love and Weather" announced it is premiering this February 12.
JTBC's new Saturday and Sunday drama "Forecasting Love and Weather" is directed by Cha Young Hoon.
READ: Lee Min Ho, Cha Eun Woo, Lee Jong Suk: Most Followed K-Drama Actors On Instagram
In the drama "Forecasting Love and Weather," Park Min Young takes on the role of Jin Ha Kyung, the general forecaster who is about to get married to Han Ki Joon, to be played by Park Yoon. However, things went south, and the two broke up.
READ: 'The Penthouse' Star Han Ji Hyeon To Lead SBS Upcoming Drama 'Cheer Up'
The fact that even after a breakup, you can meet with your ex in such a closed space is the cruelty of dating a colleague in a company, and Park Min Young's Jin Ha Kyung experiences this.
Meanwhile, Song Kang is Lee Si Woo, who is in charge of special affairs. He approaches Ha Kyung with honey dripping eyes saying, "It's a big deal because I keep liking you," in a teaser released recently.
READ: 'Sweet Home' 2nd Season To Only Have Lee Si Young & Park Gyu-Young Return, Confusing Fans!
On the other hand, the awkward gaze and uncomfortable atmosphere of co-workers caught between ex-lovers are seen on the recent poster of "Forecasting Love and Weather."
Lee Seong-wook is senior forecaster Eom Dong Han who is working with Ha-kyung in Team 2. Moon Tae Yu is Shin Seok Ho, who is in charge of neighborhood forecasting, while Yoon Sa Bong is Oh Myeong Joo and is in charge of analysis.
READ: Song Kang's Agency Reveals His Status For The Second Season Of 'Sweet Home'!
"Forecasting Love and Weather" is a collaboration between director Cha Young Hoon of "When the Camellia Blooms" and writer Seon Yeong who created topical works such as "The World of the Married."
"Forecasting Love and Weather" will be aired for the first time on JTBC at 10:30 PM on Saturday, February 12.
© 2022 Korea Portal, All rights reserved. Do not reproduce without permission.
Tags:
Song Kang
,
Song Kang news
,
Song Kang updates
,
Song Kang drama
,
Song Kang new drama
,
Song Kang kdrama
,
Song Kang new kdrama
,
Song Kang Forecasting Love and Weather
,
Park Min Young
,
Park Min Young news
,
Park Min Young updates
,
Park Min Young new drama
,
Park Min Young new kdrama
,
Park Min Young drama
,
Park Min Young kdrama
,
Park Min Young forecasting love and weather
,
Forecasting Love and Weather
,
Forecasting Love and Weather drama
,
Forecasting Love and Weather kdrama
,
Forecasting Love and Weather jtbc
,
Forecasting Love and Weather cast
,
Forecasting Love and Weather where to watch
,
Kdrama
,
kdrama news
,
kdrama updates
,
kwave
,
kwave news
,
kwave updates