Lee Min Ho, Cha Eun Woo, Lee Jong Suk: Most Followed K-Drama Actors On Instagram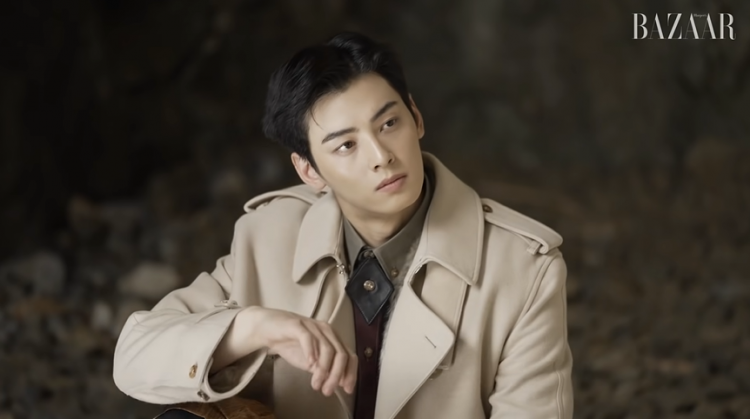 Are you following your beloved Oppa on Instagram? In this article, we updated the list of the most followed K-Drama actors on Instagram.
#15 Song Joong Ki (hi_songjoongki) with 7.4 million followers
Song Joong Ki has blessed fans with his iconic portrayal of mafia consigliere Vincenzo Cassano. Currently, Song Joong Ki is working on two upcoming drama projects "The Youngest Son of a Conglomerate" and "Arthdal Chronicles: Season 2."
#14 Kim Seon Ho (@seonho__kim) with 7.9 million followers
Kim Seon Ho had his big break after playing the iconic character Han Ji Pyeong for the 2020 hit "Start-Up." The actor recently starred alongside Shin Min Ah for the hit K-drama "Hometown Cha-Cha-Cha."
READ: Kim Seon Ho's Possible Return In '2 Days & 1 Night' Addressed As Producer Answers Petitions!
#13 Choi Si Won of Super Junior (@siwonchoi) with 8.2 million followers
Aside from being a member of the popular K-Pop boy group Super Junior, Siwon has made a name for himself in the acting industry. Some of his popular dramas include "She Was Pretty," "Revolutionary Love," and "Work Later, Drink Now."
#12 Park Jinyoung of GOT7 (@jinyoung_0922jy) with 9.0 million followers
Since leaving JYP Entertainment with his fellow GOT7 members, Jinyoung has seen incredible growth in his acting career. Most recently, he starred in two huge drama projects "The Devil Judge" and "Yumi's Cells."
#11 Wi Ha Joon (@wi__wi__wi) with 9.4 million followers
The talented actor took the world by storm with his role as Hwang Jun Ho in the trending Netflix series "Squid Game." Wi Ha Joon is currently working on three exciting projects. He is set to lead "Bad and Crazy" later this year and is in talks to star in "Little Women" as well as "Que Sera, Sera."
#10 Hwang In Youp (@hi_high_hiy) with 10.9 million followers
Hwang In Youp's popularity skyrocketed after appearing as Han Seo Jun for the hit K-Drama "True Beauty." Now, the young actor is working on two dramas slated for next year, "The Sound of Magic" and "Why Oh Soo Jae?"
#9 Song Kang (@songkang_b) with 11.4 million followers
Song Kang gained international attention with his role in Netflix' "Sweet Home." Most recently, he also stole the hearts of many with his alluring role as Park Jae Eon in "Nevertheless."
#8 Lee Dong Wook (@leedongwook_official) 11.8 million followers
Lee Dong Wook is currently working on the upcoming drama "Bad and Crazy" where he is cast to take on the role of Soo Yeol. The "Touch Your Heart Actor" is also slated to appear on the second and third installment of the K-Drama "Tale of the Nine-Tailed."
#7 Kim Soo Hyun (@soohyun_k216) with 12.0 million followers
Kim Soo Hyun remains to be one of the most beloved South Korean actors. Since his role as Moon Gang Tae for "It's Okay to Not Be Okay," fans are looking forward to Kim Soo Hyun's next project!
#6 Nam Joo Hyuk ( @skawngur) with 16.3 million followers
We haven't seen Nam Joo Hyuk this 2021, but he is confirmed to star alongside Kim Tae Ri for the 2022 drama "Twenty-Five, Twenty-One." Nam Joo Hyuk is also in talks to star in the drama "Here."
#5 Ji Chang Wook ( @jichangwook) with 18 million followers
Ji Chang Wook is cast to lead the 2022 drama "Tell Me Your Wish" alongside Girls' Generation Choi Soo Young. The 34-year-old actor is also in talks to star in the drama "The Sound of Magic."
READ: Sooyoung Is Reportedly In Talks To Star Alongside Ji Chang Wook For Upcoming Drama
#4 Park Seo Joon (@bn_sj2013) with 20.0 million followers
Everyone was ecstatic when Park Seo Joon was confirmed to be joining the Marvel Cinematic Universe through the upcoming movie "The Marvels." Some assume Park Seo Joon will take on the role of Korea-American hero Amadeus Cho who eventually becomes the new Hulk.
#3 Lee Jong Suk (@jongsuk0206) with 20.8 million followers
Lee Jong Suk is making his highly-anticipated comeback drama next year with "Big Mouth." The 32-year-old actor is confirmed to be starring alongside Girls' Generation YoonA for "Big Mouth."
#2 Cha Eun Woo ( @eunwo.o_c) with 24.5 million followers
Since his roles for "My ID Is Gangnam Beauty" and "True Beauty," Cha Eun Woo has become one of the fast-rising idol-turned-actor in the industry. The young actor is currently working on a drama entitled "Island" as well as the movie "Decibel."
READ: Cha Eun Woo Is K-Pop's 'Instagram King' For October
#1 Lee Min Ho (@actorleeminho) with 26.6 million followers
Lee Min Ho remains to be the most-followed South Korean actor on Instagram. His latest project was the 2020 drama "The King: Eternal Monarch." As of the writing of this article, Lee Min Ho is yet to announce his future projects.
© 2023 Korea Portal, All rights reserved. Do not reproduce without permission.