Ahgases & ReVeluvs Unite! Red Velvet's Seulgi Makes GOT7's BamBam Flattered In Recent Live Broadcast!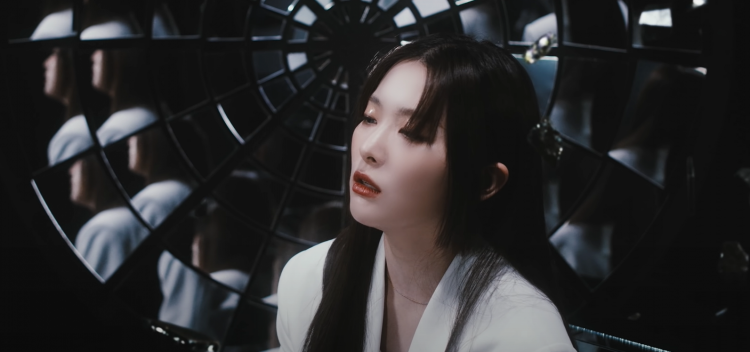 ReVeluvs (the fandom name of Red Velvet) and Ahgases (the fandom name of GOT7) were recently given a special treat as Seulgi and BamBam released a song together!
READ: GOT7's BamBam Confirms That He Is Indeed Preparing For A New Single!
Just recently, the two idols had a live broadcast and Red Velvet's Seulgi was able to draw out the shy side of GOT7's BamBam, to the delight of fans!
On the 29th of December, GOT7's BamBam and Red Velvet's Seulgi had an Instagram live stream, and the two talked about their recent song, "Who Are You." In the broadcast, the Red Velvet member shared why she decided to collaborate with BamBam.
As per Seulgi, It all started when BamBam was featured as a guest on Seulgi's show, "Seulgi.Zip." That is where the Red Velvet member suggested that the two of them should have a collaboration.
GOT7's BamBam explained that he had just been planning about it at first, but it is also true that he himself has truly wanted to work with the Red Velvet member for a while now. Furthermore, Red Velvet's Seulgi shared that she felt really good after hearing the song for the first time.
READ: ReVeluvs & Ahgases Unite! Red Velvet's Seulgi Featured in GOT7 BamBam's 'Who Are You'!
It was also adorably shared after some sweet words from BamBam that Seulgi had truly loved not only the song but the concept as well. It was particularly interesting for her as she has always wanted to try doing a contemporary dance piece.
Red Velvet's Seulgi then put the icing on the cake by saying that she has been interested in collaboration with GOT7's BamBam due to his dance skills. Thus she believed that "Who Are You" was going to be a great opportunity for her as an artist.
After hearing this, GOT7's BamBam looked abashed at Seulgi's compliment. BamBam is known for being an incredibly sweet and soft guy around female idols, so fans truly loved his interaction with the Red Velvet member.
READ: Female K-Pop Stars Who Made TC Candler's '100 Most Beautiful Faces' 2021!
Stay tuned for more news and updates regarding your favorite K-pop stars!
© 2023 Korea Portal, All rights reserved. Do not reproduce without permission.
Tags:
kwave
,
kwave news
,
kwave updates
,
Kpop
,
kpop news
,
Kpop updates
,
ABYSS COMPANY
,
ABYSS COMPANY artists
,
ABYSS COMPANY artist
,
ABYSS COMPANY news
,
ABYSS COMPANY updates
,
ABYSS COMPANY BamBam
,
GOT7
,
GOT7 News
,
GOT7 UPdates
,
GOT7 member
,
got7 bambam
,
GOT7 BamBam news
,
GOT7 BamBam updates
,
GOT7 BamBam comeback
,
GOT7 BamBam Who Are You
,
Who Are You
,
BamBam Who Are You
,
bambam
,
bambam news
,
bambam updates
,
BamBam and Seulgi
,
Seulgi and BamBam
,
GOT7 BamBam and Red Velvet Seulgi
,
Red Velvet Seulgi and GOT7 BamBam
,
SM
,
SM artists
,
SM Entertainment
,
SM Entertainment artists
,
SM Entertainment news
,
SM Entertainment updates
,
SM Entertainment Red Velvet
,
SM Entertainment Red Velvet Seulgi
,
SM Entertainment Seulgi
,
Red Velvet
,
Red Velvet News
,
Red Velvet Updates
,
Red Velvet members
,
Red Velvet Seulgi news
,
red velvet seulgi
,
red velvet seulgi updates
,
Seulgi
,
Seulgi news
,
Seulgi updates