GOT7's Jackson, EVERGLOW, NCT U, & More: 2021's Best K-Pop Videos According To Teen Vogue!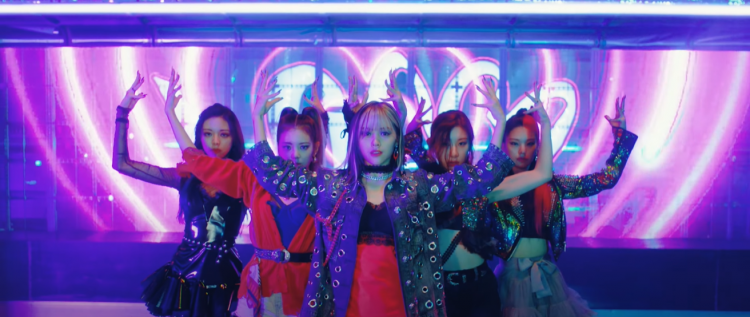 Every year, the standards for the quality of K-pop music videos rise, and it seems as though certain K-pop artists stand out from their peers.
At times, netizens are in awe due to the backdrop and setting. Other fans fall in love with the wardrobe, while a handful of both enjoys the choreography and vocals. Due to this, the number of views only goes higher when each category is further improved upon.
READ: Check Out The Most Viewed K-Pop MVs In 2021 So Far
With that, here are Teen Vogue's picks for the best K-pop music videos of this year:
SHINee Taemin - "Advice"
Taemin really gave it his all in his musical release for this year. "Advice" is praised for its choreography, and fans can not get enough of the SHINee member's charisma.
Jeon Somi - "XOXO"
It is clearly evident that in "XOXO," Somi seems to have found her identity when it comes to her musical releases. Not only was Somi's wardrobe on fleek, she simply killed the dance choreo.
EVERGLOW - "FIRST"
EVERGLOW's "FIRST" not only brings a powerful choreography to the table, the outfits and the setting used for the MV were something not to be scoffed at.
EXO's Baekhyun - "Bambi"
Baekhyun's "Bambi" is his third extended play and the EXO member truly is a master at his craft. Fans were simply blown away by his amazing visuals and vocal prowess in the "Bambi" MV.
BTS - "Butter"
"Butter" IS BTS's multi-platinum hit and both the boys' vocals and dance. The wardrobe and setting of the "Butter" MV were also enough to make ARMYs smile and dance to the beat of the song.
READ: BTS, Stray Kids, NCT, BLACKPINK, & More, 2021's Most Popular K-Pop Groups On Twitter Globally!
U-Know (TVXQ's Yunho) - "Thank U"
"Thank U" took inspiration from noir films, and netizens truly thoroughly enjoyed the blockbuster experience. As per Teen Vogue, Yunho's MV could possibly be the cinematic music video fans can ever experience.
Sunmi - "Tail"
Sunmi's "Tail" was evidently inspired by Catwoman, a female villain (or sometimes hero) related to Batman. In her MV, Sunmi once again turned up the heat with her hotness, but this time, with feline flare.
SISTAR's Hyolyn & Dasom - "Summer or Summer"
Although SISTAR's Bora and Soyou were not in "Summer or Summer," the most recent musical release truly encapsulates how close the members are, even though only two members were present.
NCT U - "Maniac"
As per Teen Vogue, NCT U's "Maniac" is severely underrated in the visual department. The K-pop boy group's Doyoung and Haechan perfectly took care of the vocals, and the remaining members added enough flair to the choreography to keep the viewers interested.
GOT7's Jackson Wang - "LMLY"
Jackson's "LMLY" is adorably visually pleasing and proves that the GOT7 member is not only talented in music but also in story-telling.
aespa - "Savage"
"Savage" wowed viewers with its visual effects, groundbreaking camerawork, and animated characters. The members of aespa truly shined in their recent MV.
ONEWE - "Rain To Be"
"Rain To Be" tells the tale of what happens prior to the arrival of a storm. ONEWE truly envelopes viewers in his charisma as his MV for "Rain To Be" stood out due completely.
BLACKPINK's Lisa - "LALISA"
One of the most beloved releases of this year, BLACKPINK Lisa's "LALISA," was nothing short of a spectacle. Lisa also proved that she was royalty as the Thai idol stood out in all aspects in the MV.
NCT Dream - "Hello Future"
"Hello Future," although somewhat unique, truly pleased NCTzens with its visuals as it mixes 80's and 90's vibe with sci-fi as UFOs hover along the MV.
AKMU (feat. Lee Sun Hee) - "Hey kid, Close your eyes"
"Hey kid, Close your eyes" carries a heavy message regarding youth and kids from all over the world. AKMU and Lee Sun Hee truly had a home run as fans felt the heavy atmosphere from the MV that was made for "Hey kid, Close your eyes."
ITZY - "Loco"
ITZY's "Loco" continues ITZY's hot streak for having amazing and adventurous MVs that are also unique and jam-packed with action. The wardrobe alongside the choreography had MIDZYs on the edge of their seats.
SHINee's Key - "BAD LOVE"
In a related interview, SHINee's Key shared that his MV had a setting that was inspired by movies of the '80s and '90s. Fans truly loved this as the retro vibe fit perfectly in the MV.
Jessi - "Cold Blooded" (with SWF)
Although Jessi herself doesn't even appear until the last minute of the MV, the focus on the dance crews made fans respect how much Jessi wanted everyone to know who the MV was about.
Eric Nam - "Any Other Way"
Eric Nam's most recent musical outing was not only filled with amazing vocals but also grandeur sceneries that stood out from any other MVs. "Any Other Way" was truly wild yet had a sense of familiarity.
MAMAMOO's Hwasa - "I'm a 빛" (I'm a B)
MAMAMOO's very own Hwasa once again brings her swag and unhinged self in her recent solo comeback. The MV of "I'm a 빛" really shows how much Hwasa has grown since debuting as a soloist.
EXO's Kai - "Peaches"
Kai transported fans to a dystopian ruin in 2020's "Mmmh," and in this year's "Peaches," the EXO member decided to go back in time. EXO's Kai masterfully uses a dream sequence that made fans feel they really went back in time in his recent MV.
© 2023 Korea Portal, All rights reserved. Do not reproduce without permission.
Tags:
kwave
,
kwave news
,
kwave updates
,
Kpop
,
kpop news
,
Kpop updates
,
Kpop MV
,
KPOP music video
,
kpop music videos
,
Kpop MVs
,
SHINee Taemin
,
SHINee Taemin Advice
,
advice
,
Jeon Somi
,
Jeon Somi XOXO
,
XOXO
,
EVERGLOW
,
EVERGLOW First
,
first
,
EXO Baekhyun
,
EXO Baekhyun Bambi
,
Bambi
,
BTS
,
BTS Butter
,
Buetter
,
u-know
,
U-Know Thank U
,
Thank U
,
tvxq yunho
,
TVXQ Yunho Thank U
,
Sunmi
,
Sunmi Tail
,
Tail
,
SISTAR Hyolyn
,
SISTAR Dasom
,
Summer or Summer
,
SISTAR Summer or Summer
,
NCT U
,
NCT U Maniac
,
MANIAC
,
GOT7 Jackson Wang
,
GOT7 Jackson Wang LMLY
,
LMLY
,
aespa
,
aespa Savage
,
Savage
,
blackpink lisa
,
BLACKPINK Lisa LALISA
,
Lalisa
,
NCT Dream
,
NCT DREAM Hello Future
,
Hello Future
,
AKMU
,
AKMU Hey kid
,
Close your eyes
,
Hey kid
,
Close your eyes
,
Lee Sun Hee
,
ITZY
,
ITZY LOCO
,
LOCO
,
SHINee Key
,
SHINee Key BAD LOVE
,
BAD LOVE
,
Jessi
,
Jessi Cold Blooded
,
Cold Blooded
,
SWF
,
Eric Nam
,
Eric Nam Any Other Way
,
Any Other Way
,
MAMAMOO Hwasa
,
MAMAMOO Hwasa I'm a 빛
,
I'm a 빛
,
I'm a B
,
MAMAMOO Hwasa I'm a B
,
EXO Kai
,
EXO Kai Peaches