BLACKPINK's Jisoo & Jung Hae In's 'Snowdrop' Drops Poster Containing Superstar Cast!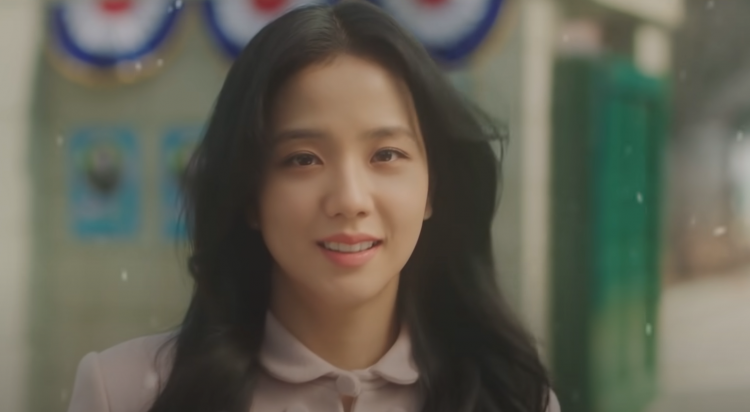 To the delight of fans and viewers, JTBC's highly-anticipated drama "Snowdrop" starring Jisoo and Jung Hae In has dropped a new group poster showing its star-studded cast.
READ: Advertisements For BLACKPINK Jisoo's 'Snowdrop' Taken Down Due To Complaints!
JTBC's "Snowdrop" is set in Seoul in 1987. The K-drama will share the love story of the characters Su Ho (played by Jung Hae In) and Young Ro (played by BLACKPINK's very own Jisoo).
Beyond the main actor and actress Jung Hae In and BLACKPINK's Jisoo, the recent poster also shows Kim Hye Yoon playing Kye Boon Ok, a phone operator at a women's university dorm; Yoo In Na playing Kang Chung Ya; an enigmatic and charming surgeon; Yoon Se Ah playing Pi Seung Hee; a famously strict dorm inspector; Jang Seung Jo playing Lee Kang Moo; the strict head of the National Security Planning Agency's investigation team; and Jung Yoo Jin playing Jang Han Na, a quick and hot-tempered agent at the National Security Planning Agency.
Beyond the aforementioned actors and actresses, the other cast members in the poster are Heo Joon Ho playing Eun Chang Soo, Park Sung Woong playing Nam Tae Il, Kim Jung Nan playing Hong Ae Ra, Jung Hye Young playing Jo Jung Shim, Baek Ji Won playing Choi Mi Hye, Lee Hwa Ryong playing Ahn Kyung Hee, Kim Min Kyu playing Joo Gyeok Chan, Jang In Sub playing Eung Chul, Jung Shin Hye playing Go Hye Ryung, Kim Mi Soo playing Yeo Jung Min, Choi Hee Jin playing Yoon Seol Hee, Ahn Dong Gu playing Choi Byung Tae, Heo Nam Joon playing Oh Kwang Tae, Kim Jong Soo playing Kim Man Dong, Nam Mi Jung playing Oh Deok Shim, and Jung Yi Seo playing Shin Kyung Ja.
To add to this, producers of the JTBC drama noted, "One of the key points of 'Snowdrop' to keep an eye on is the dynamic characters that will be played by the greatest actors."
JTBC's "Snowdrop" will air on the 18th of December at 10:30 p.m. KST!
© 2022 Korea Portal, All rights reserved. Do not reproduce without permission.
Tags:
kwave
,
kwave news
,
kwave updates
,
Kpop
,
kpop news
,
Kpop updates
,
Kdrama
,
kdrama news
,
kdrama updates
,
JTBC
,
JTBC News
,
JTBC Updates
,
JTBC snowdrop
,
Snowdrop
,
Snowdrop news
,
Snowdrop updates
,
blackpink jisoo
,
BLACKPINK Jisoo news
,
BLACKPINK Jisoo updates
,
Jisoo
,
Jisoo news
,
Jisoo updates
,
Jung Hae In
,
Jung Hae In news
,
Jung Hae In updates
,
Jung HaeIn
,
Jung HaeIn news
,
Jung HaeIn updates
,
Jung Hae In
,
Jung Hae In news
,
Jung Hae In updates
,
Kim Hye Yoon
,
Yoo In Na
,
Yoon Se Ah
,
Jang Seung Jo
,
Jung Yoo Jin
,
Heo Joon Ho
,
Park Sung Woong
,
Kim Jung Nan
,
Jung Hye Young
,
Baek Ji Won
,
Lee Hwa Ryong
,
kim min kyu
,
Jang In Sub
,
Jung Shin Hye
,
Kim Mi Soo
,
Choi Hee Jin
,
Ahn Dong Gu
,
Heo Nam Joon
,
Kim Jong Soo
,
Nam Mi Jung
,
Jung Yi Seo