'Snowdrop' Posters Tease Fans With Jung Hae In & BLACKPINK Jisoo's Amazing Chemistry!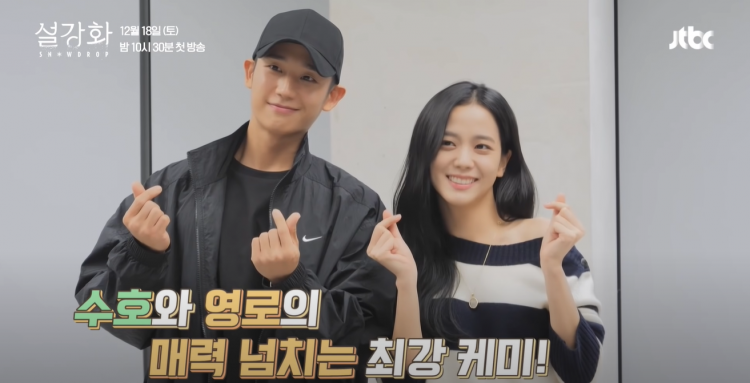 JTBC's upcoming K-drama entitled "Snowdrop" just dropped new posters of Jung Hae In and BLACKPINK's Jisoo and it seems as though their chemistry goes beyond the small screen.
"Snowdrop" happens in Seoul in 1987 and the program revolves around the love story between Im Su Ho (played by Jung Hae In), a student at a good university who is in a hurry into a women's university covered in blood, and Eun Young Ro (played by BLACKPINK's Jisoo), a student at the women's university who takes care of Su Ho although under surveillance.
READ: BLACKPINK's Jisoo & Jung Hae In Name Scenes In 'Snowdrop' They Are Excited For Fans To See!
Just recently, the two new posters of "Snowdrop" show Im Soo Ho's and Eun Young Ro's meaningful gaze with one another, as the chemistry is overflowing in the recent posters.
Jung Hae In's Im Soo Ho's poster, shows him bowing down sadly and the poster also reads, "The man who aims his fate at her, Im Soo Ho." The recent posters show the internal conflict Im Soo Ho has as he stands between his fate and his unavoidable love.
As per the poster that features BLACKPINK Jisoo's Eun Young Ro, viewers can really see the pain she is going through as her sad gaze was clearly evident. The character's innocent figure is truly in contrast to her male lead counterpart.
The poster that features BLACKPINK Jisoo's Eun Young Ro has a text that reads, "The woman who aims her love at him, Eun Young Ro," which makes viewers even more curious about their chemistry.
READ: BLACKPINK's Jisoo & Jung Hae In Make Fans Melt With Their Chemistry In 'Snowdrop' Teaser!
"The two actors Jung Hae In and Jisoo portrayed the perfect expressions and atmosphere at the poster shoot within a short period of time, and they were highly in sync with their characters. Please keep watch for how Im Soo Ho and Eun Young Ro, who get caught up in an incident that sweeps them up like fate, will connect and what decisions they'll make," the production team of "Snowdrop" noted.
Are you excited to watch the upcoming drama? JTBC's "Snowdrop" will air on the 18th of December at 10:30 p.m. KST!
© 2023 Korea Portal, All rights reserved. Do not reproduce without permission.
Tags:
kwave
,
kwave news
,
kwave updates
,
Kpop
,
kpop news
,
Kpop updates
,
Kdrama
,
kdrama news
,
kdrama updates
,
JTBC
,
JTBC shows
,
JTBC programs
,
JTBC show
,
JTBC program
,
JTBC snowdrop
,
Snowdrop
,
Snowdrop news
,
Snowdrop updates
,
BLACKPINK
,
Blackpink news
,
Blackpink updates
,
BLACKPINK members
,
blackpink jisoo
,
BLACKPINK Jisoo news
,
BLACKPINK Jisoo updates
,
Jisoo
,
Jisoo news
,
Jisoo updates
,
Jung Hae In
,
Jung Hae In news
,
Jung Hae In updates