Netizens & Fans Select The Male K-Pop Idols Who Have The Best Abs In K-Pop!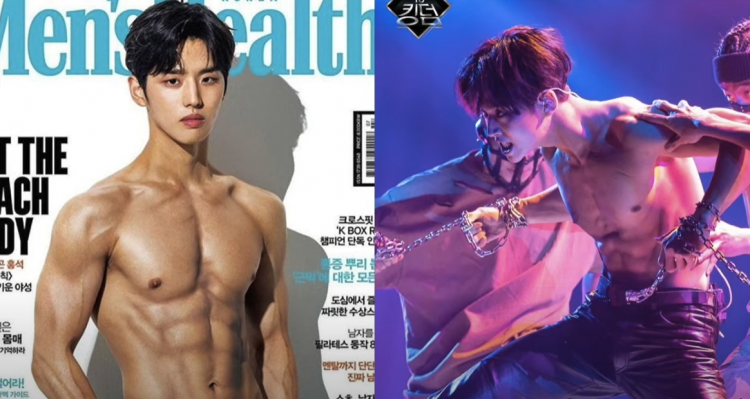 Just recently, Kpopmap, a popular Korean entertainment website, recently made netizens and K-Pop fans vote on which male K-pop idols have the best abs in the K-pop industry. Having a healthy and fit body is a part of the K-pop visual requirement after all and having abs is a huge boost in this category.
Now that the votes are in, here are the male K-pop idols, alongside the number of votes they received, in the K-pop industry that have the best abs, as per votes from netizens and fans:
#35. Chansung from 2PM and Gikwang from HIGHLIGHT with 13 votes
#34. Mingi from ATEEZ with 15 votes
#33. Jay Park with 20 votes
#32. Johnny from NCT and Changmin from TVXQ with 21 votes
#31. JR from NU'EST with 22 votes
#30. WOODZ with 23 votes
#29. Ha Sungwoon with 26 votes
#28. BM from KARD and Taeyong from NCT with 27 votes
#27. Bobby from iKON with 30 votes
#26. Minhyun from NU'EST with 33 votes
#25. Jangjun from Golden Child with 36 votes
#24. Siwon from Super Junior with 41 votes
#23. Baekho from NU'EST with 42 votes
#22. Baekhyun from EXO with 44 votes
#21. Jeno from NCT with 47 votes
#20. Minhyuk from BTOB with 51 votes
#19. Woong from AB6IX with 52 votes
#18. Kang Daniel with 55 votes
#17. San from ATEEZ with 56 votes
#16. Taecyeon from 2PM with 69 votes
#15. Dawon from SF9 with 75 votes
#14. Minho from SHINee and Han Seungwoo from VICTON with 80 votes
#13. Felix from Stray Kids with 87 votes
#12. Bang Chan from Stray Kids with 89 votes
#11. Jimin from BTS with 144 votes
#10. Jaehyun from NCT with 147 votes
#9. Shownu from MONSTA X with 162 votes
#8. Wonho with 233 votes
#7. Jaeyoon from SF9 with 273 votes
#6. Kai from EXO with 276 votes
#5. Hongseok from PENTAGON with 304 votes
#4. Nickhun from 2PM with 305 votes
#3. Sehun from EXO and Jungkook from BTS with 306 votes
#2. Park Jihoon with 339 votes
#1. Moonbin from ASTRO with 2,061 votes
Congratulations to the male K-pop idols who were chosen by netizens and fans for having the best abs in the K-pop industry!
© 2023 Korea Portal, All rights reserved. Do not reproduce without permission.
Tags:
kwave
,
kwave news
,
kwave updates
,
Kpop
,
kpop news
,
Kpop updates
,
male kpop idols
,
Kpopmap
,
2PM Chansung
,
Chansung
,
Highlight Gikwang
,
Gikwang
,
ATEEZ Mingi
,
Mingi
,
Jay Park
,
NCT Johnny
,
Johnny
,
tvxq changmin
,
Changmin
,
nu'est jr
,
JR
,
WOODZ
,
Ha Sungwoon
,
KARD BM
,
BM
,
NCT Taeyong
,
Taeyong
,
ikon bobby
,
Bobby
,
NU'EST Minhyun
,
Minhyun
,
Golden Child Jangjun
,
Jangjun
,
Super Junior Siwon
,
Siwon
,
NU'EST Baekho
,
Baekho
,
EXO Baekhyun
,
Baekhyun
,
NCT Jeno
,
Jeno
,
BTOB Minhyuk
,
Minhyuk
,
AB6IX Woong
,
Woong
,
Kang Daniel
,
ATEEZ San
,
San
,
2PM Taecyeon
,
Taecyeon
,
SF9 Dawon
,
Dawon
,
SHINEe Minho
,
Minho
,
VICTON Han Seungwoo
,
Han Seungwoo
,
stray kids felix
,
Felix
,
Stray Kids Bang Chan
,
Bang Chan
,
BTS Jimin
,
Jimin
,
NCT Jaehyun
,
Jaehyun
,
MONSTA X Shownu
,
Shownu
,
Wonho
,
SF9 Jaeyoon
,
Jaeyoon
,
EXO Kai
,
KAI
,
Hongseok
,
2PM Nickhun
,
Nickhun
,
EXO Sehun
,
Sehun
,
BTS Jungkook
,
Jungkook
,
Park Jihoon
,
ASTRO Moonbin
,
Moonbin