Stray Kids' Bang Chan & Ryan Reynolds Once Again Displayed Their Bromance In Recent Video!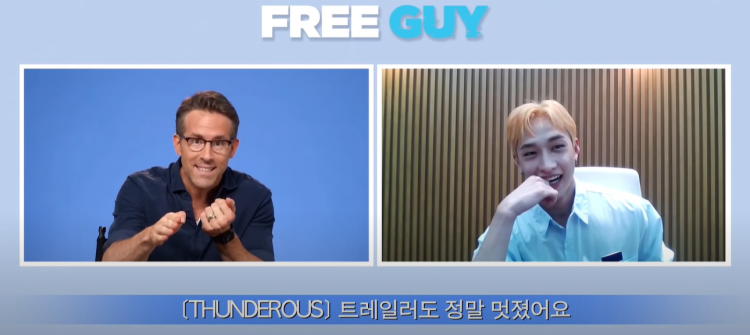 Stray Kids' Bang Chan and famous Canadian superstar Ryan Reynolds once again showed admiration towards one another, but this time, on a more personal level! After going back and forth with one another online, Bang Chan and Ryan Reynolds finally met online!
On the 12th of August, a video of Stray Kids Bang Chan interviewing actor Ryan Reynolds was posted online and netizens and fans were simply blown away with the chemistry between the two.
"Hey, that's my guy! How are you? We've finally met! I'm so excited about this," Ryan Reynolds initially reacted when the interview started.
Stray Kids' Bang Chan adorably responded, "Hi, I'm actually really nervous right now. Please be understanding even if I make some mistakes today."
Ryan Reynolds went on to reveal that he was pretty nervous as well. Reynolds shared that he probably has more questions for Bang Chan. But the two agreed that they would be doing their best in the interview.
Moving forward, Bang Chan went on to politely request for Ryan Reynolds to say hi to the Korean people.
Happily obliging, Ryan Reynolds responded, "Hi, everyone in Korea. I wish I could be there in person. I always loved getting to go there and diving into the culture. Every time I visited Korea, I made sure I had a couple extra days there for that."
Ryan Reynold excitedly added, "And it is such an honor and privilege to talk to you, Bang Chan. This is kind of crazy, since I think you are amazing. I mean, I think all the Stray Kids are amazing."
Taken aback, Stray Kids' Bang Chan sweetly laughed and said, "Oh my gosh, thank you. Thank you so much."
Ryan Reynolds excitedly continued, "I watched the trailer for 'NOEASY' like a lot of times. Both the 'CHEESE' and 'THUNDEROUS' one. I found the 'THUNDEROUS' one great because you guys did this incredible thing where you kind of blend music with the action genre. It's something that you don't see a lot of people do."
The interaction between Bang Chan and Ryan Reynolds was so wholesome, STAYs could not help but be incredibly happy.
© 2023 Korea Portal, All rights reserved. Do not reproduce without permission.
Tags:
kwave
,
kwave news
,
kwave updates
,
US
,
US news
,
US updates
,
Kpop
,
kpop news
,
Kpop updates
,
Ryan Reynolds
,
Ryan Reynolds news
,
Ryan Reynolds updates
,
Ryan Reynolds and Bang Chan
,
Bang Chan and Ryan Reynolds
,
JYP
,
JYP artists
,
JYP Entertainment
,
JYP Entertainment artists
,
JYP Entertainment news
,
JYP Entertainment updates
,
JYP Entertainment stray kids
,
JYP Entertainment Stray Kids Bang Chan
,
stray kids
,
Stray Kids News
,
Stray Kids Updates
,
Stray Kids Bang Chan
,
Stray Kids Bang Chan news
,
Stray Kids Bang Chan updates
,
Stray Kids Bang Chan and Ryan Reynolds
,
Ryan Reynolds and Stray Kids Bang Chan