'The Mother Of Dragons' To Become A Part Of The Marvel Cinematic Universe!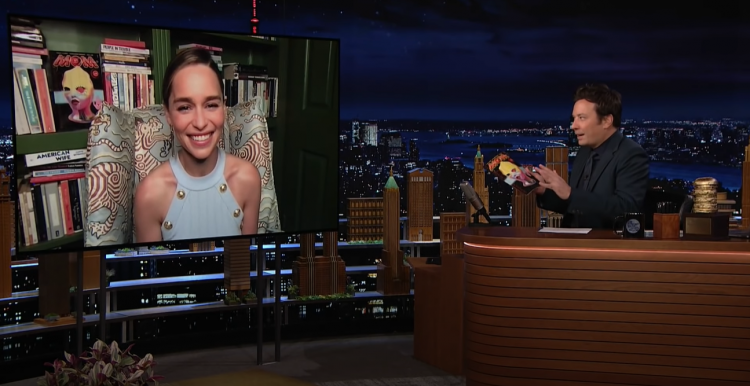 The truth has been revealed! Emilia Clarke, known for her role in "Game of Thrones" as Daenerys Targaryen or the 'mother of dragons', has confirmed in an interview with Jimmy Fallon that she has been cast in an upcoming series under Disney+ called "Secret Invasion."
Previously, Emilia Clarke has been in conversations regarding being a part of Disney and Marvel's "Secret Invasion," and now the "Game of Thrones" star has finally confirmed it.
"I am already scared. The first people I spoke to from Marvel were their security team and I am convinced that there is a man outside my house. There has been a car parked there for a long time, and I swear to God, he is undercover," Emilia Clarke hilariously shared.
Marvel's "Secret Invasion" is based on a comic with the same name and it features shape-shifting aliens known as Skrulls. Fans expect that the upcoming series will show Skrulls making their way in Earth's most secret and powerful organizations, including the Avengers.
It is still not sure which character Emilia Clarke will play in the show, but her character will join Nick Fury, played by Samuel L. Jackson, Talos, played by Ben Mendelsohn, and Kingsley Ben-Adir who has been cast as a villain.
To add to this, Emilia Clarke will also possibly have Olivia Colman as a fellow cast member if all goes well.
The host of the show, Jimmy Fallon, noted that Emilia Clarke is going to be good at keeping secrets, as per her ability to keep the plot of her previous show to herself.
To counter this, Emilia Clarke responded, "That is what I thought, but they schooled me, and so, I do not know what to do."
Are you excited to see Emilia Clarke become a part of the Marvel Cinematic Universe? Stay tuned for more details!
© 2023 Korea Portal, All rights reserved. Do not reproduce without permission.
Tags:
The Tonight Show Starring Jimmy Fallon
,
The Tonight Show Starring Jimmy Fallon Emilia Clarke
,
Emilia Clarke The Tonight Show Starring Jimmy Fallon
,
jimmy fallon
,
Jimmy Fallon and Emilia Clarke
,
Emilia Clarke and Jimmy Fallon
,
emilia clarke
,
Emilia Clarke news
,
Emilia Clarke updates
,
Emilia Clarke Marvel
,
Marvel Emilia Clarke
,
Disney Emilia Clarke
,
Emilia Clarke Disney
,
Marvel
,
Marvel News
,
Marvel updates
,
Disney
,
Disney news
,
disney updates
,
Emilia Clarke MCU
,
MCU Emilia Clarke
,
Marvel Cinematic Universe
,
Emilia Clarke Marvel Cinematic Universe
,
Marvel Cinematic Universe news
,
Marvel Cinematic Universe updates