SMTOWN Collaboration! NCT's Taeyong & Red Velvet's Seulgi Dance To 'Make A Wish (Birthday Song)'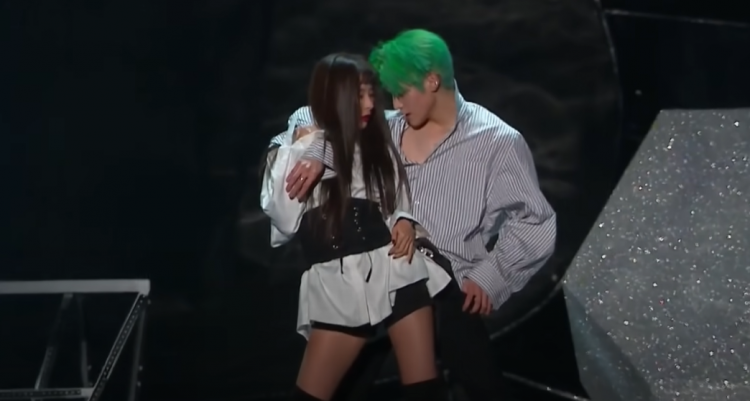 Whenever K-pop stars do a collaboration, may it be in a song, a vlog, or a dance video, fans are always there to show their support as seeing K-pop idols from other groups together is always a wholesome sight.
Although it is somewhat complicated for K-pop idols hailing from other agencies to do a collaboration, K-pop idols of the same company always have the chance to work together.
Thus, when two members of one of the top K-pop groups hailing from SM Entertainment did a new dance video, their fandoms went ballistic.
Recently, ReVeluvs (Red Velvet's fandom) and NCTzens (NCT's fandom) were given a special treat as Red Velvet's Seulgi surprised them with a dance video with NCT's Taeyong.
As of writing this article, yesterday on the 25th of June, Red Velvet's Seulgi posted on her personal Instagram a video of NCT's Taeyong and her dancing side-by-side to NCT U's hit track "Make A Wish (Birthday Song)."
Red Velvet's Seulgi shared in the video's caption that she took the video after she personally learned the choreography to "Make A Wish (Birthday Song)" from NCT's Taeyong himself, which is what made fans more happy with the dance video.
As per Red Velvet's main dancer, "Make a wish. Because I'm not sure when I'd be able to film another video, I decided to at least post this practice video that I filmed after learning [the choreography] from Taeyong... I'm leaving it here... it's a dance that I really wanted to learn, so I want to thank Taeyong once again for teaching me so well. (What should I try next time...)"
As of writing this article, the Instagram post has 1,827,830 views!
Beyond this, Red Velvet's Seulgi and NCT's Taeyong previously collaborated on a new track entitled "Rose." Taeyong dropped it on SoundCloud earlier this June.
Are you excited for more collaborations between SM Entertainment's artists?
© 2023 Korea Portal, All rights reserved. Do not reproduce without permission.
Tags:
kwave
,
kwave news
,
kwave updates
,
Kpop
,
kpop news
,
Kpop updates
,
SMTOWN
,
SMTOWN news
,
SMTOWN updates
,
SM Entertainment
,
SM Entertainment news
,
SM Entertainment updates
,
SM Entertainment artists
,
SM artists
,
SM Entertainment Red Velvet
,
SM Entertainment NCT
,
SM Entertainment NCT U
,
Red Velvet
,
Red Velvet and NCT
,
NCT and Red Velvet
,
NCT U
,
NCT
,
NCT U and Red Velvet
,
Red Velvet and NCT U
,
Red Velvet News
,
Red Velvet Updates
,
red velvet seulgi
,
Red Velvet Seulgi news
,
red velvet seulgi updates
,
Red Velvet Seulgi instagram
,
Seulgi
,
Seulgi news
,
Seulgi updates
,
Seulgi instagram
,
NCT news
,
NCT updates
,
NCT U news
,
NCT U updates
,
NCT Taeyong
,
NCT Taeyong news
,
NCT Taeyong updates
,
NCT U Taeyong
,
NCT U Taeyong news
,
NCT U Taeyong updates
,
Taeyong
,
Taeyong news
,
Taeyong updates
,
instagram
,
Seulgi and Taeyong
,
Taeyong and Seulgi
,
Make A Wish (Birthday Song)
,
NCT U Make A Wish (Birthday Song)