Initial Rankings For Mnet's 'Kingdom: Legendary War' Released! Did Your Favorite Group Rank Well?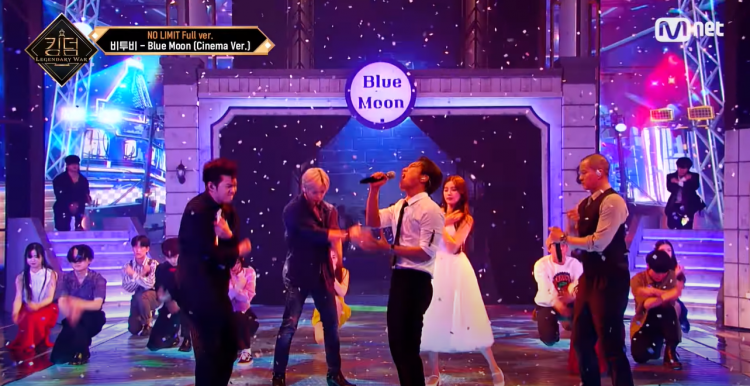 After 3 'legendary' rounds, Mnet's K-pop group survival show is getting ready for the final battle between Stray Kids, BTOB, ATEEZ, iKON, THE BOYZ, and SF9. The K-pop boy groups have bonded with their fellow members and other members of other groups and the finale is coming.
As of writing this article, yesterday on the 27th of May, Mnet's "Kingdom: Legendary War" ended its third round of survival show, and now all heads are turned towards its highly anticipated finale.
But before Mnet's "Kingdom" ends, how did the K-pop boy groups fare in the third round?
For the second half of the 3rd round, each of the six competing K-pop boy groups did a performance revolving around the theme "No Limit." The theme means that the K-pop boy groups had the freedom to do and perform any song they liked.
Mnet even allowed them to integrate and feature any K-pop artist the K-pop boy group wanted.
Right after iKON and BLACKPINK's Lisa started the second half in a blaze, Stray Kids then ramped up the stage with their performance. Both K-pop boy groups decidedly chose BLACKPINK songs to perform.
Then this week, the remaining K-pop boy group participants, BTOB, ATEEZ, SF9, and THE BOYZ raised the stakes even more as they all did amazing performances as well.
For BTOB, they masterfully performed their b-side "Blue Moon," even having (G)I-DLE's Miyeon as a featured artist in their performance. ATEEZ then performed a remix version of their hit track entitled "Answer," even featuring LA POEM, a classical vocal group.
SF9 then went on to perform SHINee's Taemin's song "Move" which was followed up by THE BOYZ's bombastic performance of EXO's "Monster."
Coming from points from the groups themselves (25%), panels (25%), fan votes (40%), and video view count (10%), (although not yet final) here are the total initial rankings for the 2nd part of the third round and their partial points:
#1. SF9 - 3414.352
#2. Stray Kids - 3125
#3. BTOB - 2141.204
#4. THE BOYZ - 1851.852
#5. iKON - 1504.630
#6. ATEEZ - 462.963
© 2023 Korea Portal, All rights reserved. Do not reproduce without permission.
Tags:
Mnet
,
mnet news
,
mnet updates
,
Mnet Kingdom
,
Mnet Kingdom Legendary War
,
Mnet Kingdom
,
Mnet Kingdom updates
,
Mnet Kingdom Legendary War news
,
Mnet Kingdom Legendary War updates
,
kingdom
,
Kingdom news
,
Kingdom updates
,
Mnet Kingdom rankings
,
Kingdom rankings
,
Mnet Kingdom Legendary War rankings
,
Kingdom Legendary War rankings
,
kwave
,
kwave news
,
kwave updates
,
Kpop
,
kpop news
,
Kpop updates
,
Stray Kids Updates
,
Stray Kids News
,
stray kids
,
BtoB
,
BTOB news
,
BTOB updates
,
ATEEZ
,
ATEEZ news
,
ATEEZ updates
,
iKon
,
iKON news
,
iKON Updates
,
The Boyz
,
THE BOYZ news
,
THE BOYZ updates
,
SF9
,
SF9 news
,
SF9 updates