Stray Kids' 3RACHA, iKON's Bobby, & More Slay Rap Performance On Episode 7 Of 'Kingdom'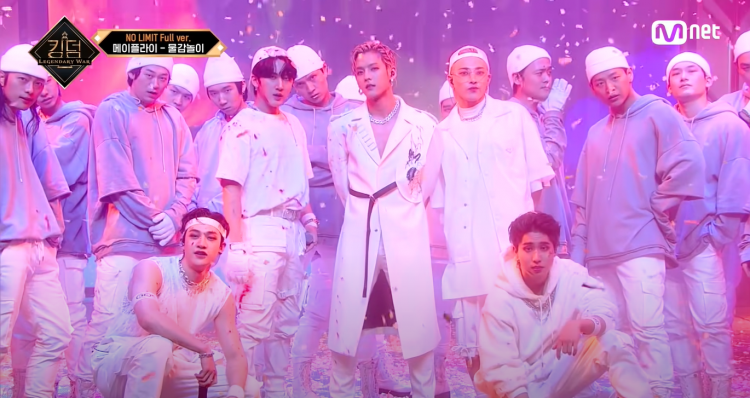 Finally, the latest round of Mnet's "Kingdom: Legendary War" and is highly exciting. In the third round, the six K-pop boy groups were split into two larger teams and then were mixed amongst themselves to form three units for vocalis, dance, and rap.
The rap performance was really full of talent as the two teams were chock full of amazing K-pop rappers. With that, here are the two performances by team iT's ONE & Mayfly:
Mayfly's rap unit performing "Paint"
Full of potentially legendary rappers, Mayfly's rap line consisted of Stray Kids' producing line, Bang Chan, Changbin, and Han also dubbed as 3RACHA. Hongjoong then represented ATEEZ's, adding to the list of producers, and BTOB selected Minhyuk as their representative.
With a rap line as devastating as this, the K-pop idols only had to dub themselves 5RACHA.
The boys performed the song "Paint," and it was evident that they'd have a dominant performance, initially with four young rappers. When BTOB's Minhyuk then went out to add to the hype, everyone simply went ballistic.
iT'S ONE's rap unit performing "Full DaSH"
Initially dubbed as -i-9, the K-pop members of the group renamed themselves iT'S ONE in the third round. For the members of their rap unit, iT'S ONE was represented by iKON's Bobby, SF9's Hwiyoung, and THE BOYZ's Sunwoo
iT'S ONE's rap performance revolved around a hip-hop-based rap performance which simply personified the idea of having fun while performing on stage. Their swag-filled and energetic performance left the crowd in awe as everyone cheered for them after their rap verses.
Moreover, another little twist on the third round was that there was no live streaming of the performance for the evaluation of "experts'."
Mnet's "Kingdom: Legendary War" third round had a panel of 33 people which included a star-studded cast including legendary Super Junior's Donghae and Shindong, popular producers Shinsadong Tiger and Rhymer, professional choreographer Lia Kim, and many more.
© 2023 Korea Portal, All rights reserved. Do not reproduce without permission.
Tags:
kwave
,
kwave news
,
kwave updates
,
Kpop
,
kpop news
,
Kpop updates
,
Mnet
,
mnet news
,
mnet updates
,
Mnet Kingdom
,
Mnet Kingdom Legendary War
,
kingdom
,
Kingdom Legendary War news
,
Kingdom Legendary War updates
,
Mnet Kingdom Legendary War third round
,
Kingdom: Legendary War
,
stray kids
,
Stray Kids Bang Chan
,
Stray Kids Changbin
,
Stray Kids Han
,
ATEEZ Hongjoong
,
BTOB Minhyuk
,
ATEEZ
,
BtoB
,
Bang Chan
,
Changbin
,
Han
,
Hongjoong
,
Minhyuk
,
5RACHA
,
3racha
,
iKon
,
SF9
,
The Boyz
,
ikon bobby
,
Bobby
,
SF9 Hwiyoung
,
THE BOYZ Sunwoo
,
Hwiyoung
,
Sunwoo
,
Mnet Kingdom news
,
Mnet Kingdom updates