Netizens In Awe After Knowing Why Red Velvet's Joy & Wendy Are So Close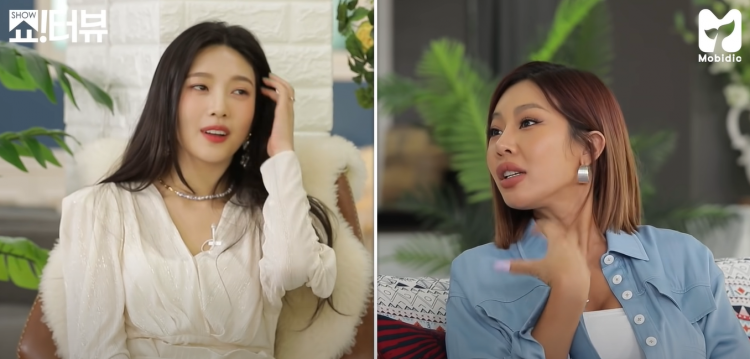 In a previous episode of "Showterview with Jessi", iconic South Korean soloist and rapper, Jessi, went on to interview Red Velvet's very own Joy.
Known for her charm, Red Velvet's Joy is assumed to have a plethora of friends. But among her countless numbers of friends, who does she consider as her best friend? In the show, Red Velvet's Joy went on to answer this question.
Jo Jung Shik, another host of the show, went on to ask Red Velvet's Joy, "Who is your best friend among all the SM artists?"
Notably, Red Velvet's Joy is close with all the other Red Velvet members and she also has a close bond with Girl's Generation. But among all her SMTown labelmates, Red Velvet's Joy answered, "It's Wendy-unnie for me."
Wendy is Red Velvet's main vocalist and the reason why Joy chose her was because previously in their younger years, Red Velvet's Wendy and Joy used to clash a lot due to them having different personalities.
Red Velvet's Joy is extremely independent. But on the other end of the sphere, Wendy is really caring. Thus, the Red Velvet main vocalist would always ask how Joy was, which Joy did not like.
After a while, the two Red Velvet members ironed things out when they had a private conversation. They have been best friends ever since.
According to Red Velvet's Joy, Wendy is a very good counselor. Red Velvet's Joy admitted that she worries a lot, but Wendy always assures her that everything will be ok.
Although a constant overthinker, Red Velvet's Joy is lucky because for her, Wendy always knows how to calm her down and console her.
Happy with Red Velvet's Joy's answer, Jessi gave a message to Wendy, stating, "Wendy-unnie, please take good care of Joy!"
Naturally, Reveluvs are in awe after finding out how close Joy and Wendy are.
© 2023 Korea Portal, All rights reserved. Do not reproduce without permission.
Tags:
Showterview with Jessi
,
Jessi Showterview
,
Jo Jung Shik
,
kwave
,
kwave news
,
kwave updates
,
Kpop
,
kpop news
,
Kpop updates
,
SM
,
SM Entertainment
,
SM artists
,
SM Entertainment news
,
SM Entertainment update
,
SM Entertainment updates
,
SM Entertainment Girls Generation
,
Girls' Generation
,
SNSD
,
SM Entertainment Red Velvet
,
Red Velvet
,
Red Velvet News
,
Red Velvet Updates
,
Red Velvet Joy
,
Red Velvet Joy news
,
Red Velvet Joy updates
,
Joy
,
Joy news
,
Joy updates
,
Joy and Jessi
,
Jessi and Joy
,
SMTOWN
,
Red Velvet Joy and Jessi
,
PNATION