Being A Leader Is Not Easy, Stray Kids' Bang Chan & ATEEZ's Hongjoong Elaborate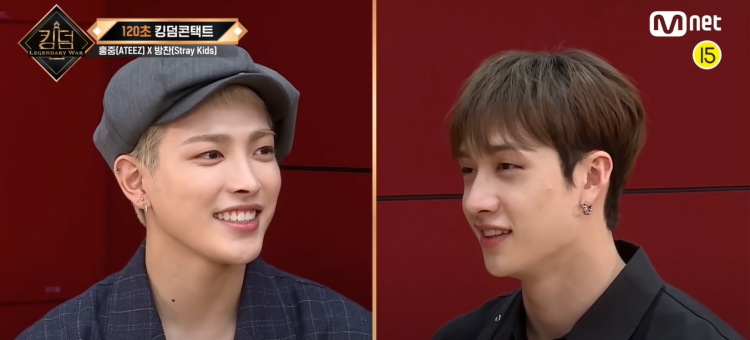 Being a leader is probably the hardest position a K-pop idol can receive. Not only will there be times that you and your fellow K-pop group members butt heads, but there will also be times where you will doubt yourself.
Thus, ATEEZ's Hongjoong and Stray Kids' Bang Chan went on to bond as they both spoke about how being the leader is in their respective K-pop groups.
On the upcoming episode of Mnet's "Kingdom: Legendary War," the six K-pop groups participating in the survival show were separated into two groups. The two groups will then go on to perform songs with the specific units specializing in vocals, rap, and dance.
Prior to their performances, the K-pop idols met up and had a test of chemistry. Among the participants were the respective leaders of Stray Kids and ATEEZ, being Bang Chan and Hongjoong, respectively. Both will be participating in the rap unit.
Initially, when Stray Kids' Bang Chan and ATEEZ's Hongjoong sat down, the two began the chemistry test complementing one another.
Due to this, Stray Kids' Bang Chan and ATEEZ's Hongjoon no longer felt awkward towards one another. Thus, the two K-pop group leaders went at it.
ATEEZ's Hongjoong went on to ask Stray Kids' Bang Chan if there were any moments where his fellow Stray Kids members do not listen to him. Unhesitantly, Stray Kids' Bang Chan affirmed by naming his fellow member, Changbin.
Hongjoong seemingly wanted advice on the matter due to the fact that fellow ATEEZ member, Wooyoung, sometimes did not heed his words.
Stray Kids' Bang Chan, unable to hide his reaction, immediately reacted due to Stray Kids' Changbin and ATEEZ's Wooyoung were known together as Lovey and Dovey, due to their friendship.
"When Changbin does not listen to me, I just let him be," Stray Kids' Bang Chan explains, which was probably what Hongjoong did not want to hear.
ATEEZ's Hongjoong then went on to explain that he has a hard time leaving Wooyoung alone, choosing rather to nag at his fellow ATEEZ member.
Notably, such is the case for most cases in a group setting. Hopefully, Stray Kids' Bang Chan and ATEEZ's Hongjoong will find a way to make their members heed their words more.
© 2023 Korea Portal, All rights reserved. Do not reproduce without permission.
Tags:
Mnet
,
mnet news
,
mnet updates
,
Mnet Kingdom
,
Mnet Kingdom Legendary War
,
kingdom
,
Kingdom news
,
Kingdom updates
,
Kingdom Legendary War news
,
kwave
,
kwave news
,
kwave updates
,
Kpop
,
kpop news
,
Kpop updates
,
JYP
,
JYP Entertainment
,
JYP artists
,
JYP Entertainment news
,
JYP Entertainment updates
,
JYP Entertainment stray kids
,
stray kids
,
Stray Kids News
,
Stray Kids Updates
,
Stray Kids Bang Chan
,
Stray Kids Changbin
,
Bang Chan news
,
Bang Chan
,
Bang Chan updates
,
Changbin
,
Changbin news
,
Changbin updates
,
KPOP LEADERS
,
kpop group leaders
,
KQ Entertainment
,
KQ Entertainment artists
,
KQ Entertainment news
,
KQ Entertainment updates
,
KQ Entertainment ATEEZ
,
ATEEZ
,
ATEEZ news
,
ATEEZ updates
,
ATEEZ Hongjoong
,
ATEEZ wooyoung
,
Hongjoong
,
Hongjoon news
,
Hongjoong updates
,
Wooyoung news
,
Wooyoung
,
Wooyoung updates
,
Kingdom Stray Kids
,
Kingdom ATEEZ
,
Stray Kids and ATEEZ