4th Gen K-Pop Female Empowerment: ITZY & STAYC Shows Their Support For One Another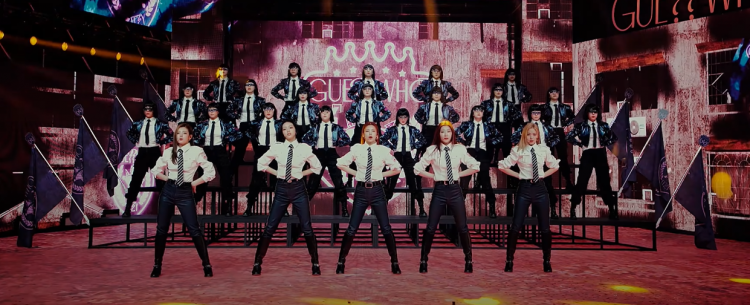 Netizens and fans always love it when K-pop groups support each other, especially during their respective releases and comebacks. Recently, JYP Entertainment's ITZY and High Up Entertainment's STAYC showed their love for one another, and netizens loved it.
ITZY is a K-pop girl group under the company JYP Entertainment. The five members making up ITZY are Yeji, Lia, Ryujin, Chaeryeong, and Yuna. JYP's ITZY made their debut on the 11th of February, 2019, with their first single album entitled "IT'z Different."
Recently, ITZY made a comeback on the 30th of April with their album "GUESS WHO," which was spearheaded by the title track "마.피.아. In the morning."
Another fourth-gen K-pop group is STAYC, previously known as HIGHUP Girls. Debuting on the 12th of November, 2020, with their first single album, "Star To A Young Culture," STAYC is under the agency High Up Entertainment. The six members of STAYC are Sieun, Seeun, Sumin, J, Isa and Yoon.
STAYC previously had their first comeback on the 8th of April with their second single album, "Staydom," which had the title track "ASAP."
Recently, STAYC and ITZY showed their support for one another as they did each other's TikTok dance challenges. The girls exchanged choreographies, which in turn became a special gift to fans.
STAYC showed their swagger as they danced to the choreography of "MAFIA In The Morning." STAYC's Sieun and Seeun showed their flare as they seemed to perfect the dance almost immediately.
JYP Entertainment's ITZY performed the iconic "kkuk-kkukie dance," also known as the "pressing down dance," which is from STAYC's track "ASAP."
ITZY's Chaeryeong, Yuna, and Ryujin seemed to nail it as they performed the dance flawlessly with STAYC's Sieun and Seeun.
The respective performances were uploaded on ITZY and STAYC's TikTok account, respectively.
MIDZYs and Swiths were spoiled once again with their favorite groups collaborating on TikTok.
© 2023 Korea Portal, All rights reserved. Do not reproduce without permission.
Tags:
Tiktok
,
Kpop TikTok
,
ITZY TikTOk
,
STAYC TikTok
,
kwave
,
kwave news
,
kwave updates
,
Kpop
,
kpop news
,
Kpop updates
,
JYP
,
JYP artists
,
JYP Entertainment
,
JYP Entertainment news
,
JYP Entertainment updates
,
JYP Entertainment ITZY
,
ITZY News
,
ITZY updates
,
ITZY Comeback
,
Mafia In The Morning
,
ITZY Guess Who
,
Guess Who
,
High Up Entertainment
,
High Up Entertainment artists
,
High Up Entertainment news
,
High Up Entertainment updates
,
High Up Entertainment STAYC
,
STAYC
,
STAYC news
,
STAYC updates
,
STAYC comeback
,
STAYC Staydom
,
Staydom
,
STAYC ASAP
,
ASAP
,
ITZY and STAYC
,
STAYC and ITZY
,
4th generation of kpop
,
4th gen kpop
,
kpop 4th gen