STAYC's Sumin Had Hilariously Awkward Moment With BTOB's Seo Eunkwang And 2NE1's Dara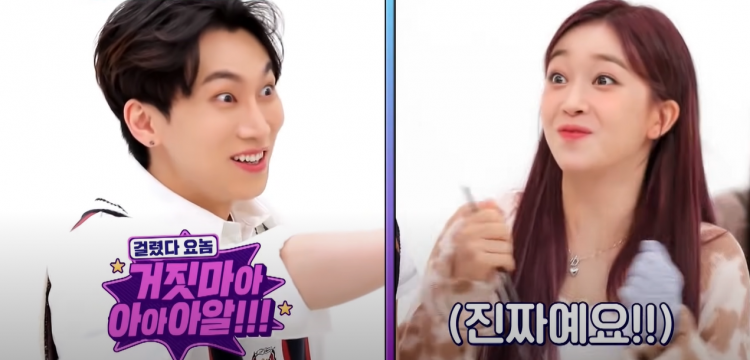 Sometimes in live broadcasts, K-pop idols may make oopsies. Most of the time, it is unintentional and is waved off by the idols and the netizens. But what happens when a K-pop idol makes an embarrassing oopsie in a variety show with other people?
High Up Entertainment's STAYC was previously featured in STATV's popular variety show "IDOL LEAGUE." The show is hosted by 2NE1's Dara and BTOB's Seo Eunkwang, and in the episode, STAYC member Sumin hilariously made a slip-up with Eunkwang.
Debuting in 2012, BTOB has garnered a ton of Melodys (their fandom name) throughout the years of being active, and it was confirmed that STAYC member Yoon is actually a mega fan of BTOB.
She revealed this on "Idol League," the Variety Show that BTOB's Eunkwang hosts himself. In the episode, it was obvious that Yoon was actually fangirling. In addition, STAYC's Yoon even dubbed Eunkwang as her favorite member or bias in BTOB.
But the sweet moment quickly turned into a hilarious event when member STAYC's Sumin decided to speak herself. Sumin also went on to share that she was also a big fan of BTOB's Eunkwang!
Feeling suspicious, BTOB's Eunkwang immediately told STAYC's Sumin that she was just trying to be nice. Denying this, STAYC's Sumin went on to say that she was serious, and she shared that she really enjoyed the BTOB song "Beautiful Pain."
STAYC's Sumin shared that she listened to the song nonstop for two weeks straight when it first went out.
Quick on his feet, BTOB's Eunkwang announced that during the release of BTOB's "Beautiful Pain," he was serving in the military and did not participate. This prompted a hilarious reaction.
BTOB's Eunkwang then jokingly showed that he was disappointed in STAYC's Sumin as she got red.
To save STAYC's Sumin, the other host, Sandara Park, asked BTOB's Eunkwang to serenade STAYC with a song.
© 2023 Korea Portal, All rights reserved. Do not reproduce without permission.
Tags:
kwave
,
kwave news
,
kwave updates
,
Kpop
,
kpop news
,
Kpop updates
,
Variety show
,
STATV
,
STATV Idol League
,
Idol League
,
High Up Entertainment
,
High Up Entertainment news
,
High Up Entertainment updates
,
High Up Entertainment artists
,
High Up Entertainment STAYC
,
STAYC
,
STAYC news
,
STAYC updates
,
STAYC Yoon
,
Yoon
,
STAYC Sumin
,
Sumin
,
BtoB
,
BTOB Eunkwang
,
Eunkwang
,
Seo Eunkwang